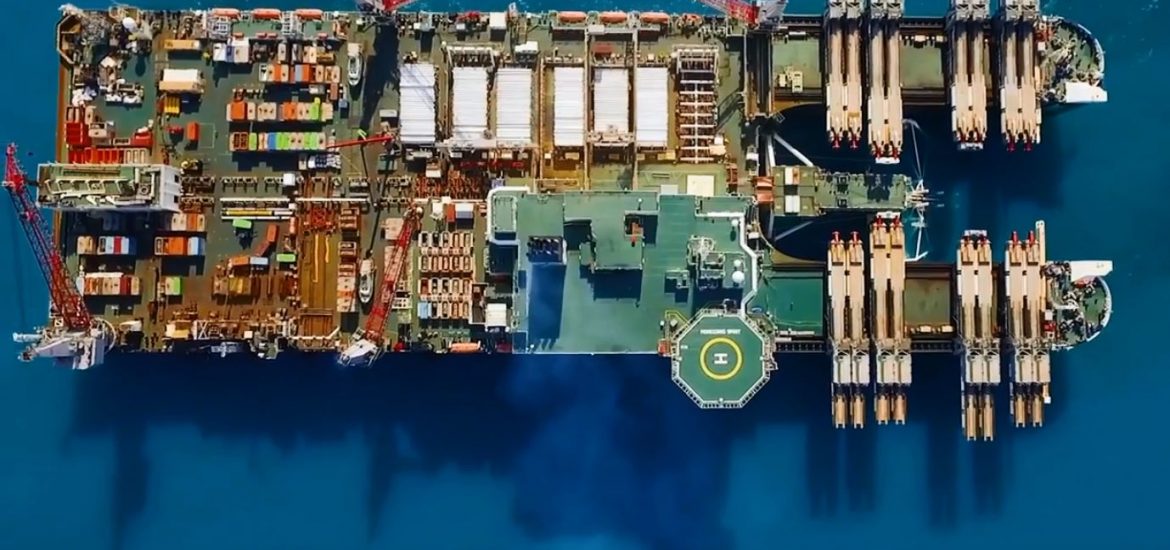 A major construction firm working on the Nord Stream 2 gas pipeline linking Russia and Germany has left the Baltic project after Donald Trump signed legislation threatening sanctions on those involved.
The White House has 60 days to identify the companies and individuals providing services for the pipeline. The sanctions allow the US authorities to revoke visas and block the property of those targeted, who then have 30 days to wind down their operations.
More than a third of Europe's gas already come from Russia's state-controlled Gazprom, which owns Nord Stream 2. 
Allseas, a Swiss-Dutch firm, said it had stopped laying pipes and was expecting US guidance.
The company was hired by Russia's state-owned gas giant Gazprom to build the offshore section.
The firm, which operates ships laying sections of the undersea pipeline, said: "In anticipation of the enactment of the National Defence Authorisation Act, Allseas has suspended its Nord Stream 2 pipelay activities."
The European Union was sceptical about the US sanctions. 
A spokesman in Brussels said the bloc opposed "the imposition of sanctions against EU companies conducting legitimate business". 
Russia said it would "continue to implement its economic projects regardless of anyone's sanctions".
Its foreign ministry dismissed the US arguments about European energy security, saying Washington wanted to "impose American liquefied gas on Europe, which costs it much more than pipeline deliveries from Russia". 
"Russia has realised and continues to realise its economic projects independent of any kind of sanctions," a ministry announced.
Ministry spokeswoman Maria Zakharova accused the US of pushing an ideology that stifled global trade. She posted on Facebook that, "Soon they will demand that we stop breathing". 
Germany "firmly rejected" US sanctions but would not retaliate, said Berlin's finance minister, Olaf Scholz.
Germany says the pipeline will fill a gap left by the phasing out its nuclear power stations, and the projected fall in supply from Norway and the Netherlands, as their reserves are depleted.
"The German government rejects such extraterritorial sanctions," said a government spokeswoman Ulrike Demmer said. "They affect German and European companies and constitute an interference in our domestic affairs."
The sanctions were "particularly incomprehensible" because Russia and Ukraine signed a deal this week on the transit of Russian gas through its western neighbour.
Kiev opposes the pipeline because it fears losing gas transit revenue as its Soviet-era pipeline is bypassed by Nord Stream 2.
The current pipeline through Ukraine provides the war-torn country with an annual income worth 2 per cent of its GDP.
Picture credit: YouTube 
Related