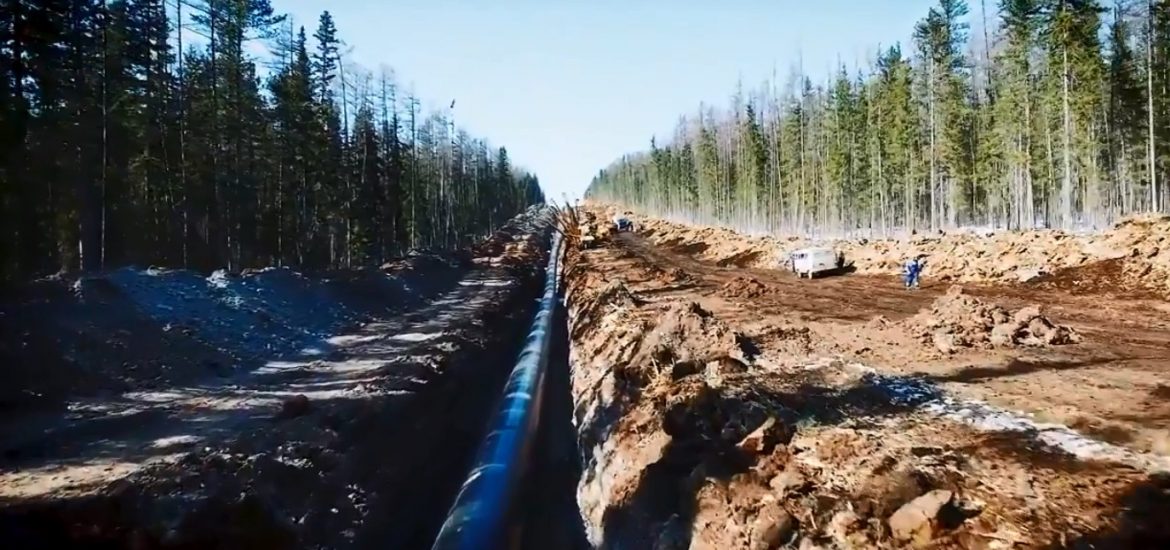 The world's largest oil importer, China, in the last 10 years has seen foreign oil imports climb from 50 per cent of consumption to 70 per cent, raising questions about energy security amid the ongoing Iranian crisis.
Last year, gas imports covered 44.5 per cent of gas consumption, up from 30 per cent in 2015.
In 2018 imports of LNG, cooled fuel shipped by tanker, exceeded 53 million metric tonnes, jumping 170 per cent since 2015. 
China's LNG imports are expected to rise by another 30 per cent from the equivalent of 73 billion cubic metres (bcm) last year to 95 bcm next year, the Oxford Institute for Energy Studies (OIES) reported.
Russia's Power of Siberia natural gas pipeline (pictured) is due to start operations in December, reaching an annual peak of 38 bcm by 2025. China could by then need to increase LNG imports by 49 bcm from last year's level, forecast OIES researcher Stephen O'Sullivan.
In 2014, Gazprom and the China National Petroleum Corporation signed a 30-year agreement for 38 bcm Russian gas from the Irkutsk and Yakutia production hubs. The 3,000km pipeline will also supply gas to Russia's far east.
But uncertainty surrounds a second Russian pipeline from Western Siberia, known as the Altai pipeline or Power of Siberia 2.
An agreement on pricing for the proposed 30 bcm pipeline through the Altai mountains to Xinjiang had not been settled with China, Gazprom CEO Alexei Miller reportedly said last month.
The crisis in the Strait of Hormuz has highlighted China's energy security. 
China could need to increase LNG tanker imports by at least 130 cargoes annually to meet demands next year, unless it is capable of plugging holes with alternative sources, including renewables.
Around 26 per cent of the world's LNG cargoes pass through the Strait of Hormuz.
The strait is 34km wide and around 18.5 million barrels of oil passes through it each day. Around 20 per cent of the world's oil travels through what the US Energy Information Administration calls the planet's "most important oil transit chokepoint". More than 90 per cent of Saudi oil exports travel through the strait along with oil from Kuwait, Qatar, Bahrain, Iran, Iraq and the UAE. 
China placed a 10-per-cent retaliatory tariff on LNG from the US in response to Donald Trump's trade war, which could deprive it of a plentiful alternative to Qatari supplies.
The Power of Siberia pipeline. Picture credit: YouTube
Related