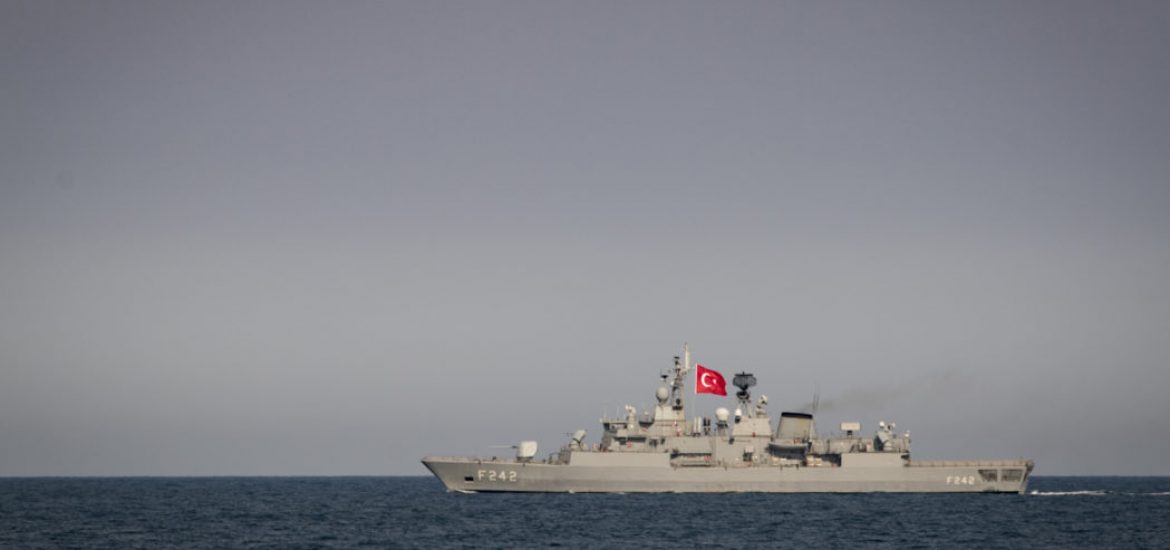 The European Union says it backs Cyprus over Turkey's bid to drill for gas inside the internationally recognised Cypriot exclusive economic zone.
European Council President Donald Tusk said the European Union "expects Turkey to respect the sovereign rights of EU member states" and it would continue to monitor the situation.
His comments came at an informal summit of EU leaders – without the UK Prime Minister Theresa May –in the Romanian town of Sibiu.
Cyprus' President Nicos Anastasiades described the Turkish drilling bid as "by far the most serious violation of Cyprus' sovereign rights in a very long time" in reference to the 1974 invasion and an "unprecedented escalation of illegal action".
"Essentially, these actions are tantamount to a new invasion of Cyprus by Turkey after the tragic events of 1974," the Greek Cypriot president said.
Turkey does not recognise the Republic of Cyprus as a state and says part of its exclusive economic zone falls within Turkey's continental shelf.
In December 2017, Turkish President Recep Tayyip Erdogan said he wanted to renegotiate an early 20th-century treaty marking the maritime boundaries of Turkey and Cyprus.
Anastasiades said Turkey was "failing to live up to its obligations" as an EU applicant, although no one expects Ankara to ever be allowed to join the bloc.
Exxon Mobil, France's Total and Italian major Eni have drilled for gas off the Cypriot coast and sizeable gas fields have been found in three offshore blocks. Cyprus says any future gas proceeds will be shared equitably with the Turkish Cypriot community after a deal is reached to end the partition of the island.
Stressing that the issue concerned the whole of Europe, Greek Prime Minister Alexis Tsipras said he stood firmly behind Cyprus and called on Turkey to avoid further provocations.
Of the discussions, Tsipras said: "I completely supported the position of the president of Cyprus, who asked for this issue to be confronted as a European issue and I pointed out that the European Union has a special geopolitical and energy interest in the area of eastern Mediterranean."
The leftist prime minister said he called on other leaders to consider "the steps and necessary actions and measures, if this unilateral, provocative behaviour and violation of international law continues. Turkey must understand that it should sit and discuss instead of continuing its unilateral violations of international law."
He told the media in Romania: "We want a Mediterranean region of peace and cooperation and not a Mediterranean of violations of international law. And this is not a Greek and Cypriot position, it's a European position."
German Chancellor Angela Merkel said Anastasiades "had asked us to represent Cyprus' interests when there's contact with Turkey. We will do so." Potential sanctions on Turkey were not discussed, the veteran chancellor told the media.
Nicosia says Turkey's drillship, Fatih, is anchored about 68km off the southwestern Cypriot resort of Paphos along with support ships and a frigate. Drilling has not started.
The Turkish navy has been flexing its muscles around Cyprus. Picture credit: US Navy
Related