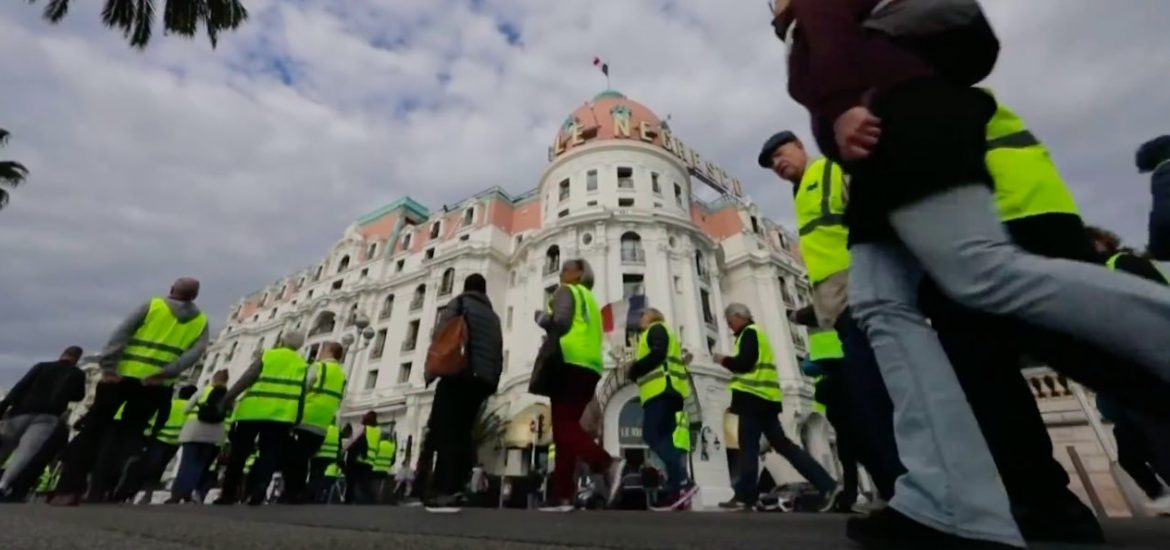 Demonstrators from the gilets jaunes (yellow vests) movement have blocked France's road network to oppose President Emmanuel Macron's new fuel taxes.
Diesel, the most commonly used fuel in French cars, currently costs around 23 cents more than a year ago, rising to about €1.51 per litre, reportedly the highest point since the early 2000s.
World oil prices have risen before falling back again as the three largest suppliers – Saudi Arabia, Russia and the US – increased output to cope with Donald Trump's sanctions on Iran. But Macron increased hydrocarbon taxes this year by 7.6 cents per litre on diesel and 3.9 cents on petrol, to promote the use of cleaner cars and fuel. 
The move to impose a further increase of 6.5 cents on diesel and 2.9 cents on petrol for 2019 has started the strikes.
A 63-year-old woman was killed at Pont-de-Beauvoisin in the southeast Savoie region. 
The regional prefect, Louis Laugier, said a driver taking her child to the doctor was stopped by protesters but ran over the woman after protesters began banging on the roof of her vehicle. "It appears the woman panicked, accelerated and ran over a person who died," Laugier told the media. The driver has been arrested.
Across France, 106 people were injured, with the police saying most of the accidents were caused by drivers hitting protesters as they tried to pass roadblocks.
The movement has been blocking roads, bridges and toll booths to protest at rising fuel prices.
Demonstrators are threatening to block access to oil depots.
The "yellow vests" strikes, named after high-visibility jackets, are expected to affect at least 700 sites.
Protesters say Macron has abandoned "the little people" but the president said on Wednesday that he had not "really managed to reconcile the French people with their leaders" but said his opponents were hijacking the movement to block his reforms.  
Macron blamed world prices for 75 per cent of the price rise and his interior minister, Christophe Castaner, said the falling price would even out the tax rise.    
Protesters are also suggested covering speed cameras with bin bags.
Nearly 75 per cent of respondents to an Elabe Institute poll said they backed the protests and 70 per cent said the government should axe the tax rises.
More than half those who voted for Macron were supporting the protests, said Vincent Thibault of Elabe. 
"The expectations and discontent over spending power are fairly broad, it's not just something that concerns rural France or the lower classes," he was quoted saying by AFP. 
Nice. The protests have spread across France. Picture credit: YouTube  
Related