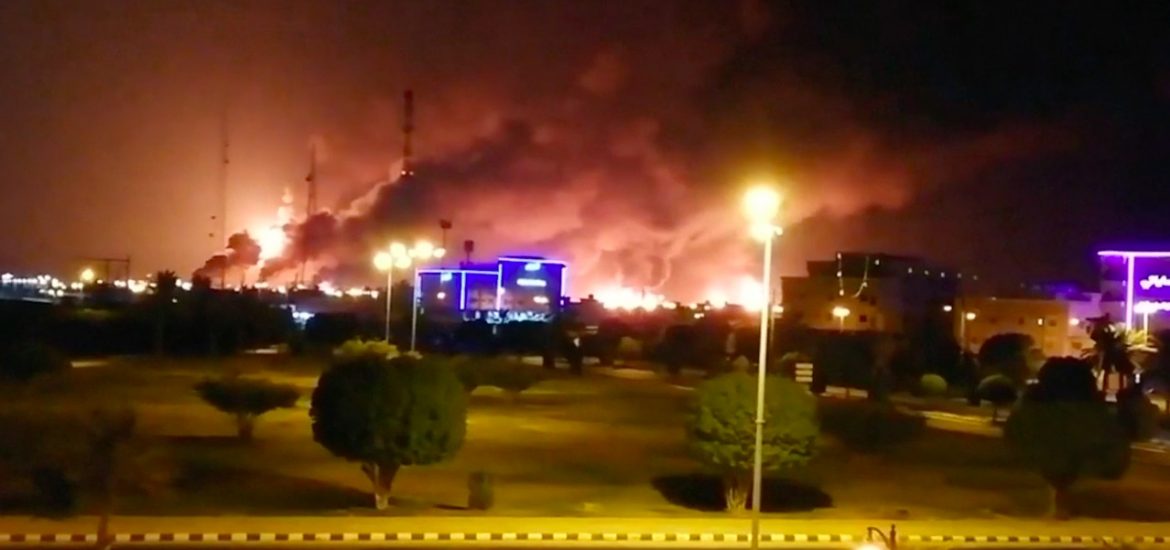 Iran has denied US accusations that it was behind explosive drone attacks in Saudi Arabia on the world's largest petroleum refinery that disrupted more than half of Saudi oil output.
The markets are braced for a rise in the cost of crude today, and analysts expect the costs of the crisis to be felt by consumers almost immediately.
Saudi Aramco said the attacks would cut output by 5.7 million barrels a day, more than 5 per cent of the global crude oil supply.
Yemen's Iranian-backed Houthi rebels claimed responsibility for the drones at state-owned Saudi Aramco's refinery on Saturday.
The attacks on the Abqaiq and Khurais installations, 200km apart in the east of the kingdom, have sparked raging fires.
The US said it would use its strategic fuel reserves if needed to prevent price rises. 
Saudi Arabia said it would use its own oil stores and would assess the impact within the next two days. 
US Secretary of State Mike Pompeo said he was unconvinced the drones were launched from Yemen and accused Iran of "an unprecedented attack on the world's energy supply".
RBC Capital Markets, an industry analyst, said the attacks were a "wake-up call" for the oil markets, which had so far been largely unaffected by troubles between Iran and Saudi Arabia. 
"We see today's attacks pushing the region ever closer to military confrontation. All summer, oil has been a broken barometer for gauging the pressure building in the region but it may be poised for recalibration," the firm told the media. 
While rejecting the accusations, Iran warned that US military assets were within missile range. 
"Having failed at 'max pressure', [Pompeo is] turning to 'max deceit'," tweeted Iran's foreign minister Javad Zarif. 
An Iran's Revolutionary Guard commander said the country was ready for "fully fledged" war.
"Everybody should know that all American bases and their aircraft carriers in a distance of up to 2,000km around Iran are within the range of our missiles," Revolutionary Guards Corps airforce chief Amirali Hajizadeh said, according to the Tasnim news agency.
The attacks have demonstrated the vulnerability of fossil-fuel supply to relatively cheap weaponry.
"The attacks could complicate Aramco's initial public offering plans given rising security risks and potential impact on its valuation," reported Ayham Kamel at the Eurasia Group.
Ashley Kelty, a fossil-fuels specialist at Cantor Fitzgerald, said he expected petrol prices to rise "at least 5p per gallon in the coming days and further hikes to come as news comes out on the longer-term impact of the Saudi outage".
Picture credit: YouTube 
Related