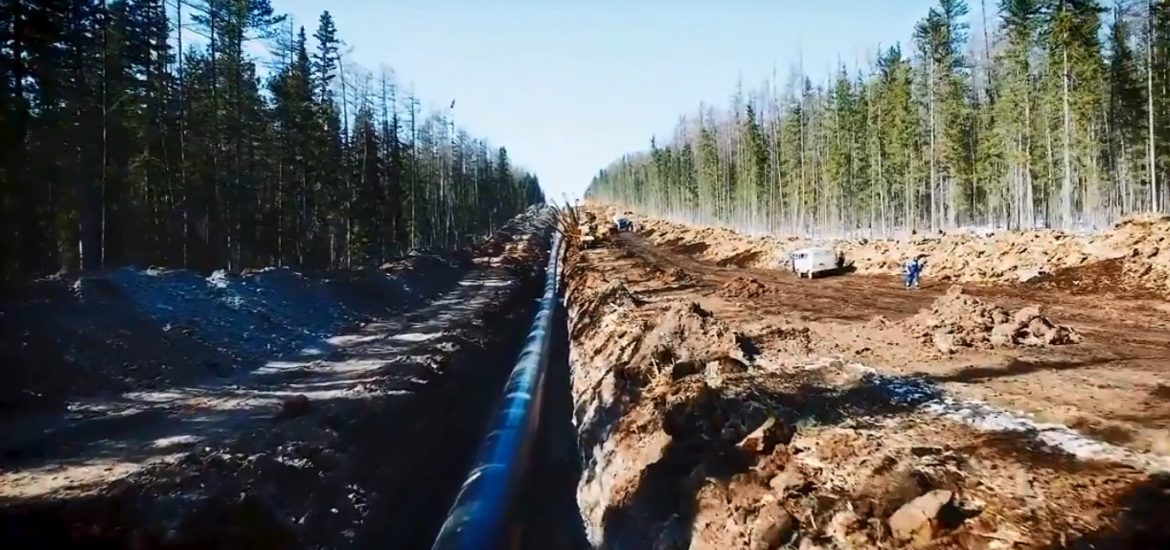 Russian gas export giant Gazprom says its lengthy Power of Siberia pipeline to China is 93-per-cent complete.  
Around 2,010km of pipe has been laid between Yakutia and the Chinese border, Gazprom said, adding that it was expecting to start sending gas before the end of next year. 
Gazprom said 119 operational gas wells had been completed at the Chayandinskoye field in Yakutia. 
The two-string submerged crossing under the River Amur was 78-per-cent complete and the Atamanskaya compressor station on the border was under construction, the firm reported.
The deal on the "eastern route" took more than a decade to negotiate. 
In May 2014 Gazprom signed a US$400-billion, 30-year contract with China National Petroleum Corporation (CNPC) for the supply of 1.3 trillion cubic feet of gas. This year the firm planned to invest nearly US$3.2 billion in the pipeline project, up from US$2.3 billion last year, Kremlin mouthpiece Tass reported.
Gazprom and CNPC have also opened talks about a Power of Siberia 2 pipeline from western Siberian gas fields to deliver another 30 billion cubic metres (bcm) of natural gas. 
Gazprom chief executive Aleksei Miller said China's growing gas consumption, which was more than 200 bcm in 2016, would soon reach 300 bcm.
China also intended to increase gas supplies from Kazakhstan, reported the China News Service
"China imported 94.6 billion cubic metres of natural gas in 2017, both through the Central Asian gas pipeline and the China-Myanmar gas pipeline from Turkmenistan, Uzbekistan and Myanmar," a representative of the state administration for energy affairs said.
He added that 22 nations were now exporting liquefied natural gas (LNG) to China. 
CNPC is one of Kazakhstan's main partners in oil and gas extraction, transport and deep processing. The company has been operating in Kazakhstan since 1997 and now has oil and gas assets and equity in the country, while also providing oilfield services.
Chinese gas demand is booming amid a massive switch from coal-fired to gas-fired heating in millions of homes, amid meagre domestic production. 
The Gas 2018 report by the Paris-based International Energy Agency said China would become the world's largest natural gas importer next year. It said the share of imports in China's natural gas supply was set to rise from 39 per cent to 45 per cent by 2023. 
The Power of Siberia natural gas pipeline is one of Gazprom's most ambitious projects. Picture credit: YouTube
Related