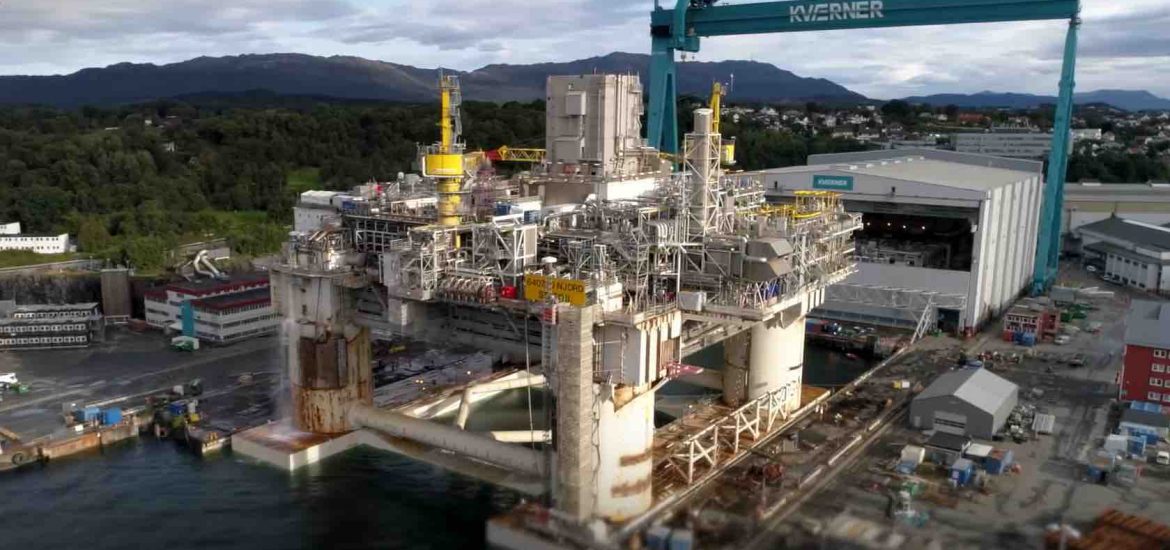 Norway's state-run oil and gas giant Equinor is aiming for a 40-per-cent cut in carbon and methane emissions by 2030 from its Norwegian operations. The firm's goal is near-zero emissions by 2050.
Equinor is looking to improved energy efficiency, digitalisation and electrification at its Oseberg, Statfjord and Troll in the North Sea and at the Snohvit liquefied natural gas terminal. 
Routine flaring would also be banned on all its platforms by 2030.
Oil and gas account for about two-fifths of Norwegian exports and helped to build the world's largest sovereign wealth fund.
Equinor said it was planning to spend approximately US$5.68 billion along with its partners. 
Aker Solutions has begun to modify the Troll B and C platforms to receive electricity from Kollsnes on the Norwegian mainland to replace polluting gas-turbine generators and gas compressors. 
The full electrification of Troll C and partial supplies to Troll B would bring carbon dioxide savings of almost 450,000 metric tonnes per year. The Troll A platform is already supplied by the mainland.
Equinor has also pledged to generate at least 4-6 gigawatts of wind power by 2026, reaching to 12-16GW by 2035. It currently has approximately 400-600 megawatts of wind capacity and growth will "depend on the availability of attractive project opportunities".
The firm also said it was boosting investment in hydrogen and carbon capture, usage and storage (CCUS) technology.
Equinor CEO Eldar Saetre said: "We are now looking 30 years into the future, and it is not possible to predict an exact shape and pace of the transition. 
"But we know there will have to be significant changes in the energy markets and our portfolio will change accordingly to remain competitive. We will produce less oil in a low carbon future but value creation from oil and gas will still be high, and renewables give significant new opportunities to create attractive returns and growth."
Equinor's giant Statfjord field is looking to halve its carbon emissions per barrel through increased output. 
Production is being extended at the field where extraction began in 1979. Statfjord is Norway's largest oil discovery, with reserves of nearly 9 billion barrels of oil equivalent. 
Approximately 100 new wells are due to be drilled over the next decade to sustain current production levels beyond 2025.
Across northwestern Europe, offshore production was forecast to rise by 5 per cent this year, according to the consultant Wood Mackenzie. 
The output would be boosted mainly by the new UK Culzean and Mariner fields and Johan Sverdrup in the Norwegian North Sea.
Picture credit: YouTube  
Related