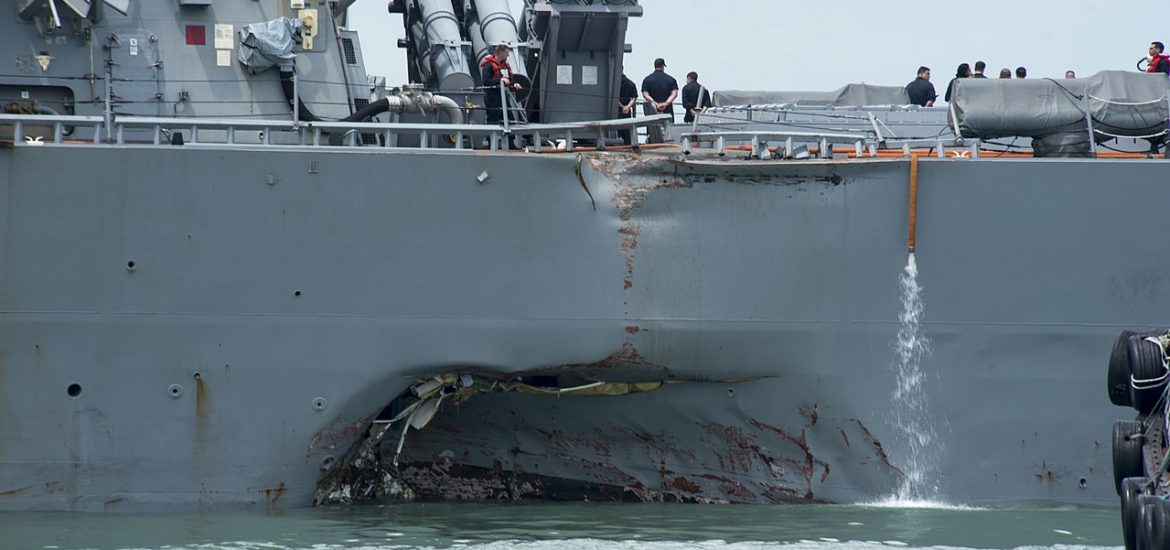 A Greek-flagged tanker has collided with a Singapore-registered supertanker about 1 nautical mile south of Tuas Extension off the coast of Singapore yesterday (Tuesday), causinga liquefied butane gas leak, the Maritime and Port Authority of Singapore (MPA) announced.
The Singaporean LPG (liquid petroleum gas) tanker, Crystal Sunrise, was reportedly picking up a pilot when it collided with the Greek, westbound tanker Astro Saturn, chartered by European trading house Trafigura.
The Singapore and Malacca straits are one of the world's most congested sea lanes, where the US Navy's USS John S McCain (pictured) last August collided with an oil tanker, resulting in the deaths of 10 US sailors.
In September 2017, five sailors were killed after a dredger and tanker collided in Singapore's waters.
The Crystal Sunrise's ballast tank was damaged, causing butane to leak from one of the cargo tanks, while Greece's Astro Saturn suffered damage to its port anchor and bow, the MPA reported.
An estimated 1,800 metric tonnes of butane gas had leaked, the MPA warned, but its high evaporation rate meant it would have been carried south away from Singapore and most would have rapidly dissipated to below flammable levels within an hour and posed no threat to shipping.
The MPA said it was investigating the incident.
This week, the Agency for Science, Technology and Research's Institute of High Performance Computing at Singapore Management University and Fujitsu said it was developing predictive technology to prevent ship collisions in the future.
"We can confirm that the Astro Saturn is on TC [time charter] to Trafigura and is carrying fuel oil," a Trafigura spokeswoman was quoted saying by Reuters.
The Crystal Sunrise, built in 2013 and owned by Japan's Kumiai Navigation, is listed a very large gas carrier with a deadweight tonnage of 54,070 tonnes carrying LPG from West Asia to the East Asian market.
Astro Saturn is an Aframax with a deadweight tonnage of 105,167 tonnes and is anchored at Tanjung Pelepas in Johor, Malaysia, which is adjacent to Singapore.
Shipping sources said the Crystal Sunrise, which was carrying Qatari butane, had been chartered by Japanese LPG trading firm Gyxis.
East Asia is facing a relative shortfall of butane versus propane, while North Asian butane demand for the petrochemical sector has been healthy. This has switched the normal regional propane/butane spread to a premium for butane.
Prior to this, butane had been at a discount as deep as US$30 per million tonnes versus propane between the end of November 2017 and earlier this month, amid ample West Asian butane supplies and via the arrival of mixed LPG cargoes from the USA.
US Navy's USS John S McCain after its Singapore collision. Picture credit: Wikimedia
Related