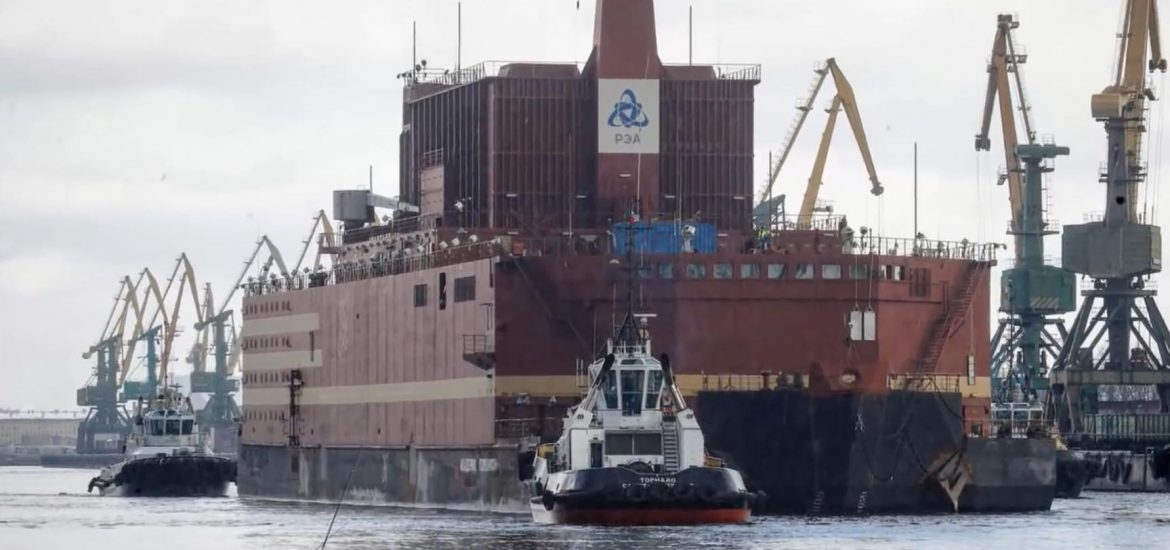 The Akademik Lomonosov, dubbed Russia's "floating Chernobyl", is due to be wired into the electrical grid in the Arctic town of Pevek next year, becoming the world's northernmost nuclear reactor. 
It is projected to be capable of powering a town of 100,000. Rosatom, its manufacturer, says it has "a great margin of safety" and is "invincible for tsunamis and natural disaster". 
But Jan Haverkamp, a nuclear specialist for Greenpeace, called it a "shockingly obvious threat to a fragile environment". 
Critics say the rough seas of the Arctic are incompatible with nuclear fission. 
"To test a nuclear reactor in a densely populated area like the centre of St Petersburg is irresponsible to say the least," said Haverkamp. 
"However, moving the testing of this 'nuclear Titanic' away from the public eye will not make it less so: Nuclear reactors bobbing around the Arctic Ocean will pose a shockingly obvious threat to a fragile environment which is already under enormous pressure from climate change."
But Russia has dismissed concerns. 
"The floating energy plant has incorporated all the best qualities of traditional nuclear plants," said Vitaly Trunev, the head of Rosenergoatom, the nuclear generation subsidiary of Rosatom. "It is protected from all kinds of natural and technical harms."
"Floating nuclear power plants would enable electricity and heat supply to the most remote regions boosting growth and sustainable development," said Trutnev. 
"Building upon 300 reactor-years of safe operation of units powering icebreakers, FNPP [floating nuclear power stations] features the most cutting edge safety and security systems and is expected to be one of the safest nuclear installations in the world," he added. 
Work on the Lomonosov began in 2007.
The ship was supposed to be filled with nuclear fuel at St Petersburg's shipyard but the authorities banned fuelling the unique, floating nuclear reactor beside a city of nearly 5.3 million.
The vessel will be pulled through the Baltic Sea, around the northern tip of Norway to the Russian Arctic city of Murmansk, which has more than 300,000 residents, before it is fuelled for sea tests.
Its final destination is the Kamchatka Peninsula off the coast of Pevek, near the Bering Straits where it will replace an ageing reactor.
Rosatom, the state-owned nuclear energy monopoly, says the vessel will go into service in Chukotka, the far eastern province opposite Alaska, next year.
Rosatom is in talks with potential buyers in Asean, Latin America and Africa, according to Russia's RT channel, which claimed that 15 countries had shown interest.
The Akademik Lomonosov. Picture credit: YouTube
Related