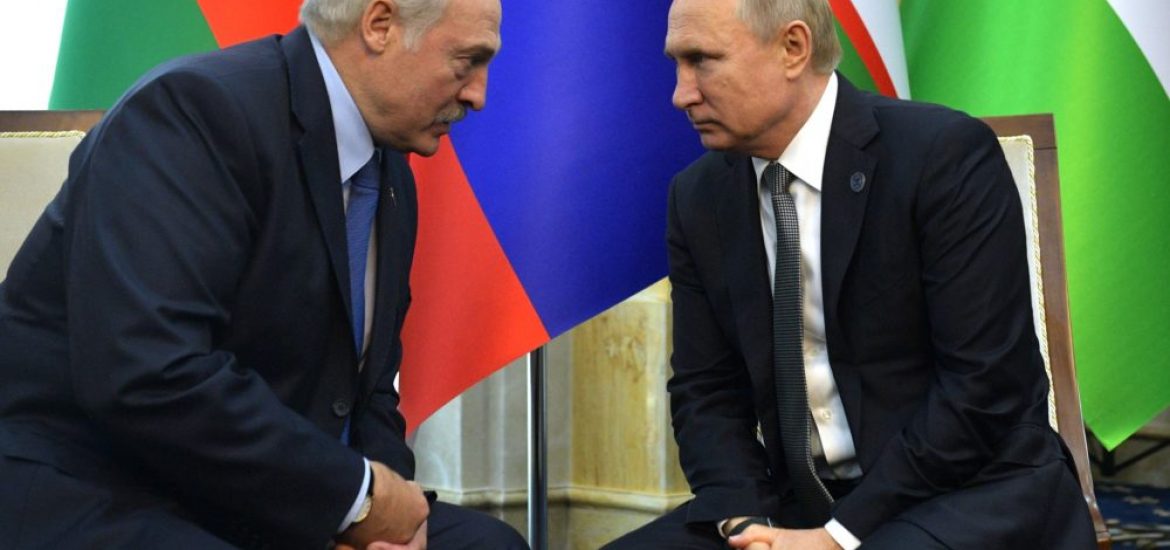 Belarusian President Alexander Lukashenko and his Russian counterpart, Vladimir Putin, have held talks in Sochi in southern Russia to discuss the supply of oil and gas.
Putin has reportedly demanded that the supply of Russian oil at domestic prices will be strictly linked to the implementation of the integration plan. It would also include the creation of supranational bodies and a single currency, sources at the talks said.
Lukashenko would be required to give firm guarantees for in-depth integration.
He said in January that he wanted to reduce Belarusian dependency on Russian supplies to about 40 per cent from the current 80 per cent.
The veteran president earlier called the talks "the moment of truth", saying that Moscow wanted to bring Belarus to its knees.
RBC reported that Russian oil companies had been banned from supplying oil to Belarus.
"We can't supply oil there until they sign the roadmaps for integration. This is not a matter of pure commerce, although we must also make money on such supplies. If they sign the 'road map', we will supply oil," an oil company source was quoted saying.
Lukashenko earlier criticised Russia's decision to halt oil and gas supplies before meeting Putin in the Black Sea resort.
During January, Russia supplied about a quarter of the oil that Belarus was expecting, according to Lukashenko.
The authoritarian leader in Belarus said: "We were given firm assurances. This year, Russia promised on the government level to ship 24 million tonnes of oil to Belarus, 2 million tonnes a month. In January, 500,000 tonnes were supplied."
Russia's decision to cut energy subsidies and raise prices cost Belarus US$300 million last year, said Belarus Prime Minister Sergey Rumas.
Lukashenko has asked the government to create "mechanisms to compensate for the losses".
"The demands are well-known: not a single resident of Belarus, not a single company, should feel the consequences of various manoeuvres by our partners," he said.
In January, after the collapse of late 2019 talks between Russia and Belarus about forming a "union state", Russia halted deliveries of oil, prompting Belarus to buy a costly shipment of Norwegian oil and to look for other suppliers.
The strongman president said in January that Minsk was looking to sign deals with the US, Saudi Arabia and the United Arab Emirates.
During an official visit last weekend, US Secretary of State Mike Pompeo promised to fill the gap left by Russian supplies with American imports at a reasonable price.
Pompeo told his Belarusian hosts: "Our energy producers stand ready to deliver 100 per cent of the oil you need at competitive prices."
The White House has been keen to increase oil and liquefied natural gas exports to Europe to challenge Russia's grip on energy supplies.
Belarusian President Alexander Lukashenko and his Russian counterpart, Vladimir Putin. Picture credit: Kremlin
Related