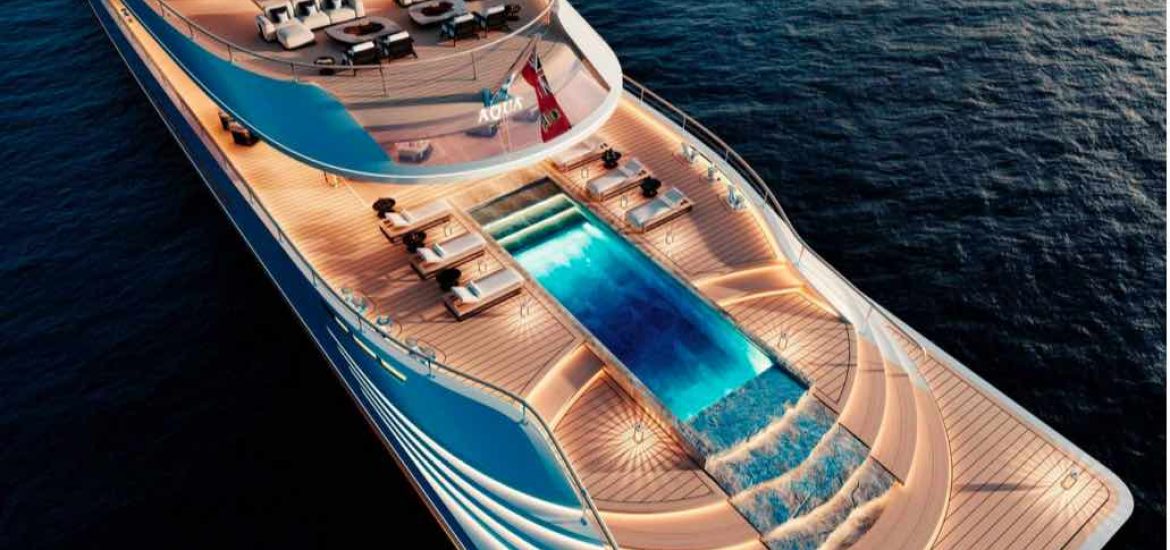 Tech billionaire Bill Gates has commissioned the world's first hydrogen-fuelled luxury yacht in a €600-million project to pioneer technology to cut carbon emissions.
The Dutch superyacht designer Feadship is working on plans for a 112-metre vessel called "Aqua" with Dutch marine architect Sander Sinot. 
The designs include five decks with the capacity for 14 guests, 31 crew, a gym, yoga studio, beauty room, massage parlour and cascading pool.
The 64-year-old tech pioneer takes regular yachting holidays on rented vessels around the Mediterranean.
Sinot, the architect, said: "With every project, I challenge my team and myself to surpass ourselves. For development of Aqua we took inspiration from the lifestyle of a discerning, forward-looking owner, the fluid versatility of water and cutting-edge technology to combine this in a superyacht with truly innovative features."
The designs include two 28-tonne vacuum-sealed stores for liquid hydrogen at minus 252°C and two 1-megawatt motors. Fuel cells will also combine hydrogen and oxygen from the air to provide electricity, with water as a byproduct.
A large staircase at the centre of the vessel spirals around a water feature, where the fuel tanks can be viewed through a window. 
Sinot has promised speeds of 17 knots, a cruising speed of 10 to 12 knots and a range of 7,000km, which would be enough to cross the Atlantic Ocean.
The Aqua, which is due to launch in 2024, will be smaller than other vessels like the 163-metre Eclipse commissioned by Russian oligarch Roman Abramovich, who owns Chelsea Football Club.
The retired Microsoft co-founder has said investing in alternative energy systems is a better way to get firms to cut emissions rather than pressuring investors to abandon oil giants when so much of the global economy depends upon fossil fuels.
"By investing in energy innovations, we can build on the progress we've made deploying current technology like renewables, which will help accelerate the transition from fossil fuels to a future of reliable and affordable carbon-free electricity," the world's second-richest man said.
"We need big breakthroughs in technologies that will allow us to supply the power grid with clean energy even during windless days, cloudy weather and nighttime."
Gates is an investor in Heliogen, a Californian startup that uses mirrors to focus the sun's rays to generate sufficient heat for industrial processes. The project aims to produce clean hydrogen by splitting water without using fossil fuels.
Designs for Aqua. Picture credit: Sinot
Related