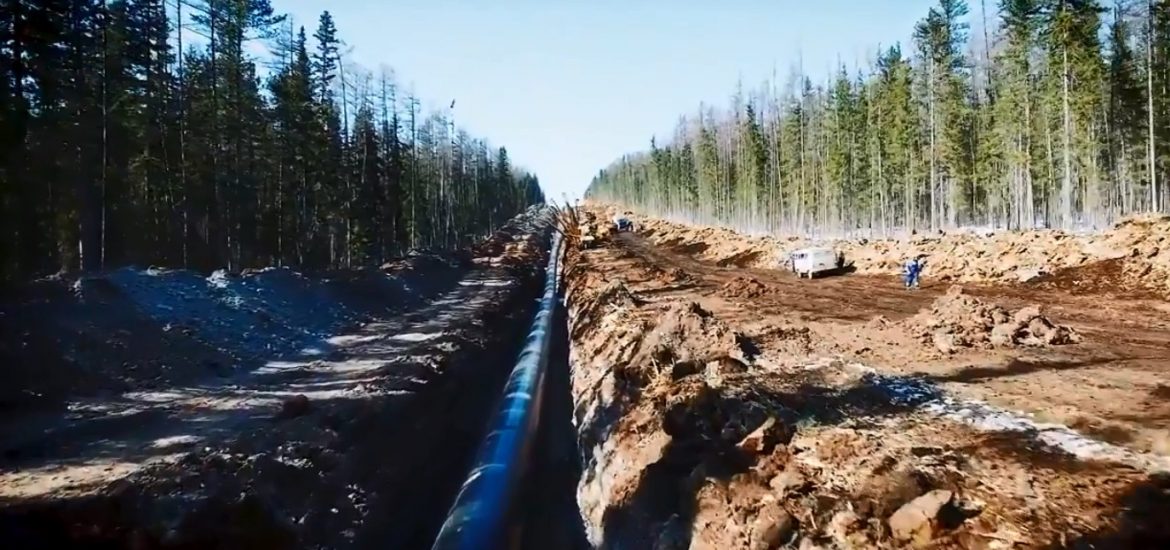 Russia's de-facto gas export monopoly Gazprom says it will start filling the Power of Siberia pipeline to China from September 1, rather than December, as was initially proposed.
Gazprom and CNPC signed a contract worth US$400 billion to supply 38 billion cubic metres (bcm) of gas per year over 30 years through the pipeline (pictured).
During this year Gazprom said it planned to invest about US$2.24 billion into the project, which is far less technically challenging than its other giant pipeline projects that are due to be completed this year: Nord Stream 2 under the Baltic Sea to Germany and TurkStream under the Black Sea to Turkey and the Balkans.
Russia overtook Saudi Arabia as China's largest oil supplier in 2016.
Gazprom Transgaz Tomsk said supplies would start at 5 bcm and reach full capacity after several years.
The pipeline runs through Russia's Sakha (Yakutia) republic and the regions of Irkutsk and Amur.
"We are currently in talks on possibly increasing gas supplies via the Power of Siberia pipeline, as well as supplies through new projects — the Power of Siberia 2 — and through the far eastern route. If new projects are implemented by 2035, the share of Gazprom's supplies may rise to 13 per cent in consumption and to 25 per cent in gas imports, and our company may become the largest supplier on the Chinese market," said Gazprom board member Oleg Aksyutin last month.
The Kremlin relies on oil and gas to fund more than a third of its budget.
Gazprom said it planned to supply more than 25 per cent of Chinese gas imports by 2035 to become China's largest gas supplier.
Until now Gazprom's exports have been focused on Europe, reaching a record 201.8 bcm in 2018 with similar forecasts for 2019. Gazprom said its share of the European gas market rose to 36.7 per cent in 2018, from estimates of 34.2 per cent in 2017, as European production fell.
China, meanwhile, is the world's largest oil importer and the second largest buyer of natural gas.
The Siberian pipeline opens the giant Chinese market to Gazprom, diversifying exports away from dependence on Europe with whom relations are increasingly strained.
Easier access to China is expected to give Gazprom more influence in setting prices and make Russia less vulnerable to western sanctions.
The land-based Siberia pipeline is far less challenging for Gazprom than its other pipelines. Picture credit: YouTube
Related