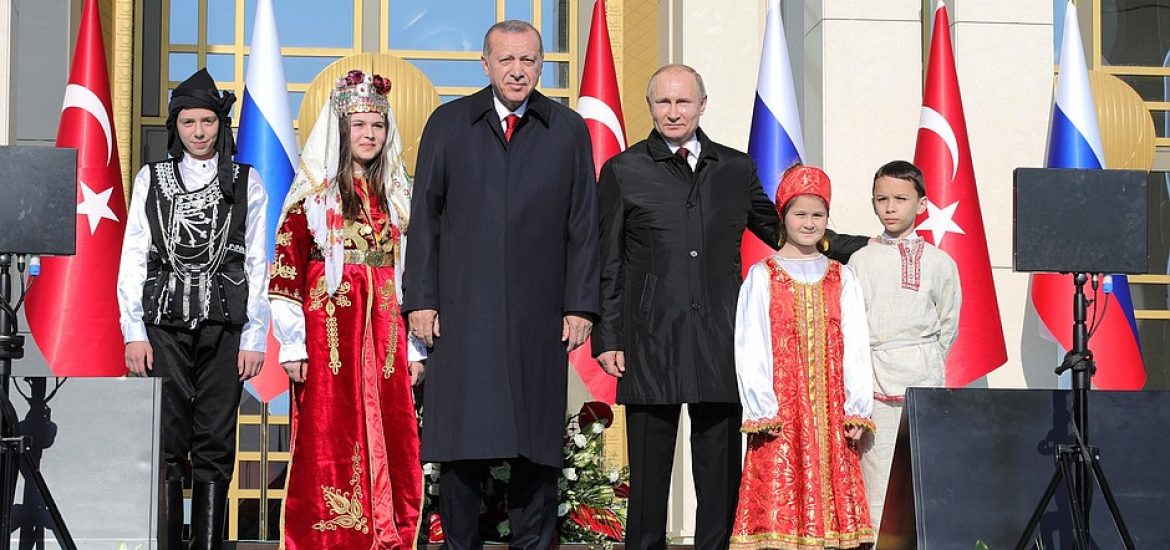 The presidents of Turkey have watched a second groundbreaking ceremony at the Akkuyu nuclear site, after the project was initially abandoned in late 2015, but numerous questions surround the project. 
Since 1970, Ankara has been pursuing plans to build a nuclear power plant. But Turkey has lagged behind neighbours, including Armenia, whose Metsamor power station lies along the Turkish border, Bulgaria, which was the leading exporter of electricity to Turkey in 2017, Romania and Iran.
Ankara has been making plans for two or three nuclear power plants on the Mediterranean and Black Sea coasts.
Russia's Vladimir Putin and Turkey's Recep Tayyip Erdogan over a video conference watched the groundbreaking ceremony (pictured) at the Akkuyu nuclear power plant near the Mediterranean city of Mersin.
The two leaders watched mortar pouring at the US$20 billion project from Erdogan's 1,100 room presidential palace in Ankara.
But Akkuyu has raised environmental concerns, not least because it is being built in an earthquake-prone area.
Started in 2010 by Russia's state-owned nuclear body Rosatom, the project's first unit is intended to be completed by 2023, marking 100 years since the founding of the Turkish republic. It is set to generate about 10 per cent of Turkey's electricity or enough to run Istanbul.
Akkuyu production was frozen after November 2015 when Turkey shot down a Russian fighter jet and restarted in October 2016, when Putin was the guest of honour at the World Energy Congress in Istanbul, signalled a turnaround in bilateral relations.
The U-turn in relations has witnessed the two countries closely cooperate on Syria and expand economic ties.
Putin and Erdogan met eight times last year and spoke often, signalling that the two leaders have been able to bridge their differences as both face deteriorating relations with the west.
But Russia managed to obtain tax breaks of US$3 billion before the relaunch. Rosatom holds a 51-per-cent controlling share in the project and is seeking to sell 49 per cent.
So far Ankara has not found a buyer after Turkish companies backed out in February.
The Turkish consortium was set up by Cengiz, Kolin and Kalyon (CKK) in June 2017 and allegedly pulled out because the Russians were unhappy about CKK's choice of a Chinese consultant.
CKK also reportedly wanted to have a say in managing the project before securing the financing for the shares.
Critics now argue the project is not financially viable and electricity prices will be too high.
There are fears that Turkey is increasingly dependent on Russia for energy security.
The two countries are also building the US$12 billion TurkStream pipeline under the Black Sea to deliver gas to Turkey and the Balkans, bypassing Ukraine.
Russia's Vladimir Putin and Turkey's Recep Tayyip Erdogan watch the groundbreaking ceremony. Picture credit: Kremlin
Related