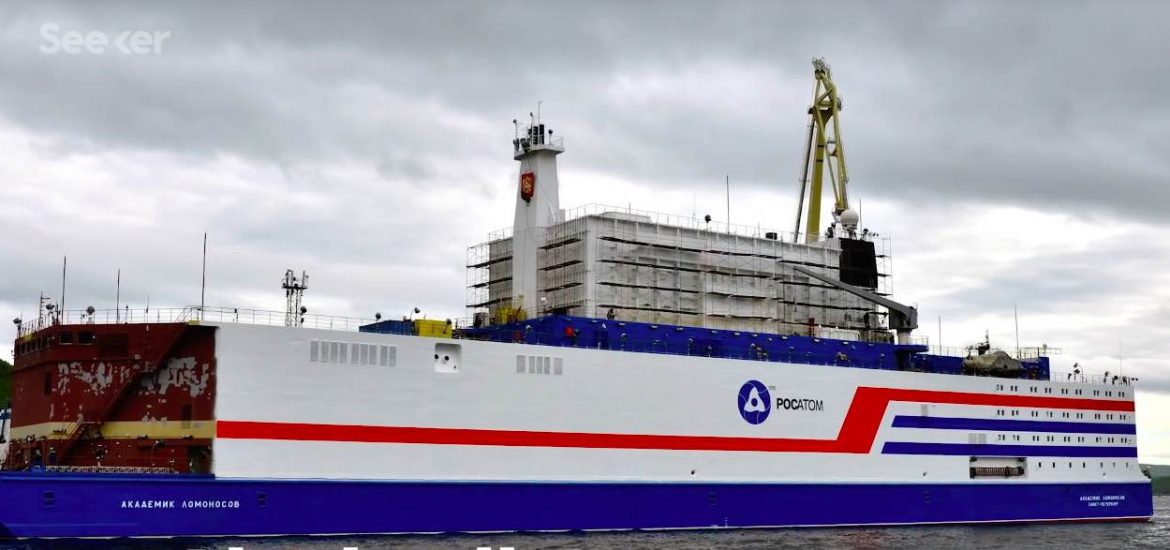 Russia's Arctic floating nuclear power station has been connected to the grid in time to add festive cheer to one of the world's most remote regions, lighting a Christmas tree in Pevek's central square.
Russia's state-owned nuclear agency, Rosatom, said the Akademik Lomonosov had started to the power the "isolated Chaun-Bilibino network" in Pevek, a port with 4,000 residents on Russia's northeastern tip. 
The Akademik Lomonosov has two KLT-40C reactors, similar to those used on icebreakers, which have a capacity of 35 megawatts each. 
Russia says the barge is a safe, low-carbon way to power industry and fossil-fuel extraction where poor transport links and permafrost complicate large-scale construction. Russia is taking advantage of climate change to remove more fossil fuels from the frozen Arctic, which in turn will increase climate change. 
Over three weeks from August the barge, which is 144 metres long and 30 metres wide and has a displacement of 21,000 tonnes, was towed from Murmansk in European Russia through the Arctic Ocean to near Alaska. 
Akademik Lomonosov, the first major ship of its kind, was named after the 18th-century Russian scientist Mikhail Lomonosov. 
Greenpeace has dubbed it a "floating Chernobyl" and a "nuclear Titanic."
Jan Haverkamp, a nuclear specialist at Greenpeace, said: "The flat-bottomed hull and the . . . lack of self-propulsion makes the plant particularly vulnerable to tsunamis and cyclones."
The plant will replace the onshore Bilibino nuclear plant that is being decommissioned and a coal-powered station. Its two reactors power steam turbines are designed to provide electricity and hot water for up to 100,000 people.
Pevek is expected to expand as a port as the Arctic sea route becomes more accessible with global warming, allowing faster trade links between Europe and Asia. 
But rescue operations after an accident would be complicated by distance.
Memories of Fukushima's waterlogged reactors in 2011 are still vivid.
Rosatom has said its floating plant has been designed with a "great margin of safety" which exceeds "all possible threats" and protects the reactors from tsunamis and "other natural disasters".
No spent nuclear fuel or radioactive waste will be left behind as it will be taken to the special storage sites, Rosatom claims. 
It said it met the International Atomic Agency requirements and posed no environmental threat.
Rosatom is said to be considering a second floating plant, with twin 50-megawatt reactors and there had reportedly been orders from Sudan, the Philippines and West Asia. 
Picture credit: YouTube 
Related