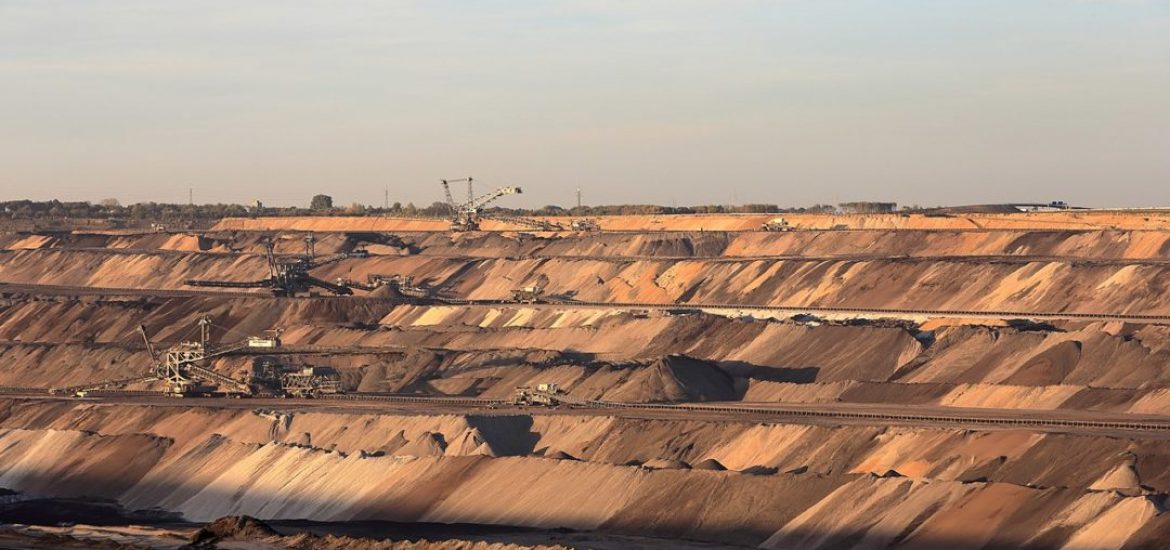 Hundreds of climate change activists have stormed an open cast, lignite coal mine in western Germany to campaign against fossil fuels.
The protesters broke through a police line to reach the mine at Garzweiler (pictured).
Police said the mine was unsafe and that officers had been hurt trying to hold back activists.
The German government has pledged that the nation will be carbon neutral by 2050, which would mean the country's economy no longer would add greenhouse gases to the atmosphere. Merkel recently backed the pledge while environmentalists want the deadline moved forwards.
Opinion polls say climate change is the major concern for voters with the Green party polling level with Chancellor Angela Merkel's CDU.
Protesters in industrial western Germany also temporarily blocked a train line used to transport coal.
Between 20,000 and 40,000 protesters who joined a demonstration in the border city of Aachen on Friday in support of the school-strike movement launched by Swedish teenager Greta Thunberg.
European Union leaders failed last week to agree on how to make the bloc carbon neutral by 2050, with resistance from the former communist, Central European countries that are heavily dependent on coal, particularly Poland.
The vast majority of Germany's environmental protests remained peaceful.
The brown-coal mine has been a focus of environmental protests in recent years because the operator, German electricity provider, RWE, planned to cut down an adjacent forest to enlarge the open pit.
Unusually the activists were as well-organised as the police with a red section on the L277 state road, and gold, pink and multicoloured sections trying to access the pit in other areas.
"It's important to increase the pressure on the government," protester Selma Schubert told the media. "The government doesn't do enough against climate change."
According to German environmental campaign organisation, Bund, more than 8,000 activists joined Saturday's protest.
"You're building a movement, that's beautiful," said Seimi Rowin, who had travelled from Scotland for the protest. "But we need to get to the next step … otherwise future generations will pay for it."
Climate scientists say ending fossil fuel use by 2050 is essential if countries want to achieve the 2015 Paris climate accord's goal of keeping global temperatures from rising more than 1.5°C from pre-industrial times.
Protester in Garzweiler Sina Reisch told DW: "Today, some of us will commit ourselves to storming the pit and stop the mining. We're going to use our bodies to stop it."
Reisch said the massive amounts of coal stripped from the Rhine district made it Europe's biggest source of carbon dioxide emissions. She said scientists had long known about the negative effects of climate change but the government still refused to act.
"That's why we have decided to take things into our own hands. We are going to use our bodies to stop it," said Reisch.
Opencast mining scars much of Germany. Picture credit: Wikimedia
Related