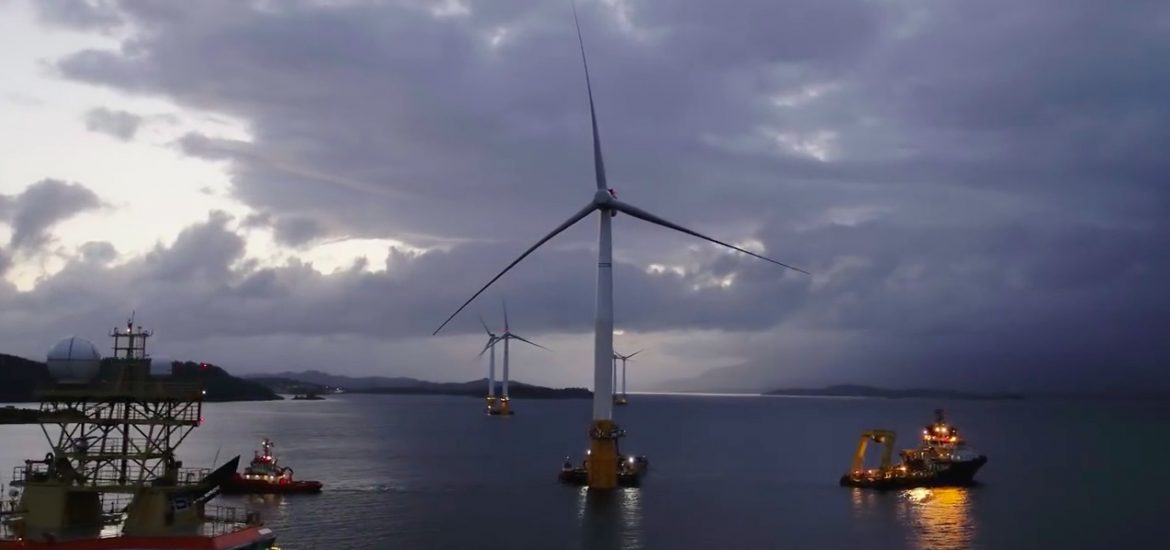 Norway's state-owned Enova has made a financing commitment to support the Hywind Tampen floating offshore wind farm with Norwegian oil and gas giant Equinor.
The US$255-million state subsidy will be offered under the programme for full-scale innovative energy and climate measures of Enova, which is owned by Norway's Ministry of Climate and Environment.
A final investment decision on Hywind Tampen will be made later this year and it is expected to come on stream in 2022.
Hywind Tampen is intended to power offshore oil and gas platforms in Norway's North Sea.
Equinor New Energy Solutions chief Pål Eitrheim said: "The support that the licences have received for the Hywind Tampen project demonstrates the will of Norwegian authorities to invest in and develop floating offshore wind farms and renewable energy supplies.
"With this support, we have taken an important step forward in realising the project. Now it is up to the licences to further mature the project towards a final investment decision this autumn."
Equinor pioneered floating wind farms with the landmark Hywind (pictured) off the northeast coast of Scotland, which began operating in late 2017.  
As a consequence the Global Wind Energy Council said Britain was the world's largest offshore wind market, hosting 36 per cent of globally installed offshore wind capacity. 
The 30-megawatt project has been used to demonstrate the feasibility of commercial floating offshore wind in deepwater sites. Unlike conventional offshore wind turbines, which are anchored to the seafloor and need specific gradients and water depths, floating wind technology is applicable around the world's oceans.  
Equinor and its partners plan to power the Snorre A and B and Gullfaks A, B and C fields.
The seven partners in the Snorre and Gullfaks licences are planning to make an investment decision for the wind project in the forthcoming months. 
The 11-turbine operation was due to have the capacity to generate 88MW, which would meet 35 per cent of the annual demand of five oil platforms, Equinor estimated.
Hywind Tampen was expected to offset more than 200,000 tonnes of annual carbon emissions.
Norway's emissions have risen despite pledges for deep cuts under the 2015 Paris climate agreement. Last year, Norway's emissions were 3.4 per cent above 1990 levels at 52.9 million tonnes of carbon dioxide equivalent.
Its project director Olav-Bernt Haga told the media: "The Hywind Tampen project will contribute to further developing floating offshore wind technology and reducing the costs of future floating offshore wind farms, offering new industrial opportunities for Norway, the licences and Norwegian supplier industry in a growing global offshore wind market."
Equinor in February signed a deal with the Korea National Oil Corporation to develop commercial floating offshore wind power.
Hywind off the Scottish coast. Picture credit: YouTube 
Related