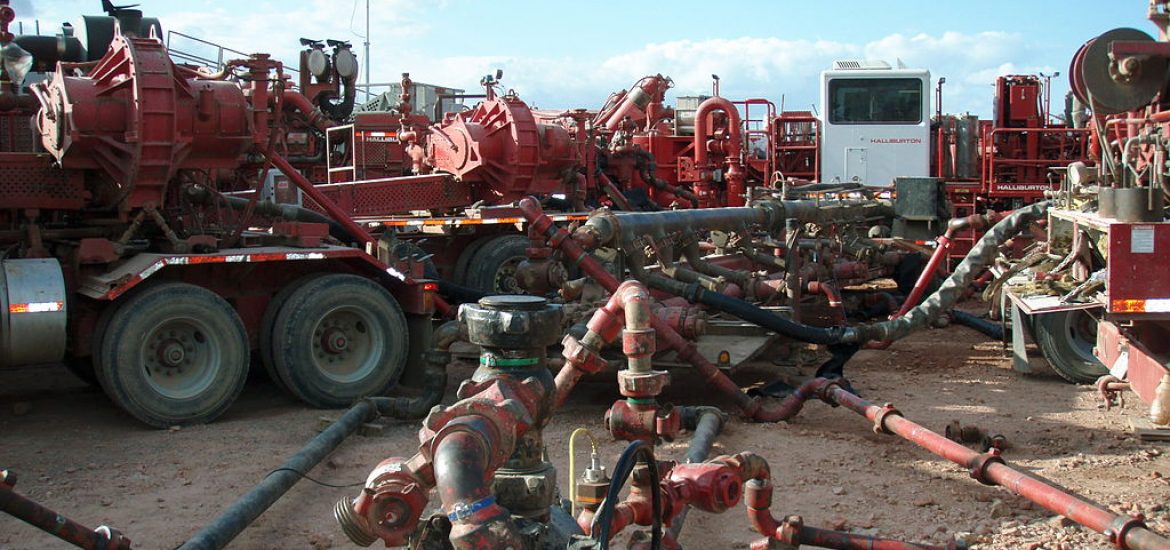 Houston-based Halliburton is bracing for a prolonged slump in demand for hydraulic fracturing services in the United States and Canada as the latest version of the shale boom loses momentum and the oil and gas industry faces another downturn.
As the biggest oil services supplier to the North American fracking sector, the firm is planning further cost-cutting after reporting reduced demand from shale producers and falling profits.
Oilfield service providers are struggling with falling spending by fossil-fuel producers as investors push for higher buybacks and dividends rather than growth amid feeble oil prices.
The oil field services sector sells drilling, fracking, water management and other services to fossil-fuel producers. The sector indicates the energy industry and it is one of the first areas that producers cut and the indicators are not good.
Halliburton said it would take steps to reduce its annual costs by US$300 million.
The company has about 60,000 employees in more than 80 countries and reported revenues of US$24 billion last year. 
It is the biggest supplier to the American fracking industry followed by rival Schlumberger. Both firms have been affected by a slowdown in drilling in North America as oil prices fall. 
Schlumberger said last week that it had recorded a US$1.58 billion goodwill impairment charge related to its pressure pumping business in North America.
The fracking process pumps water, sand and chemicals down a well at high pressure to hydraulically fracture rocks and then extract the oil and gas that are released.
Halliburton said North American revenues fell by more than a fifth to US$2.9 billion in the third quarter, from US$3.7 billion 12 months ago.
CEO Jeff Miller said: "Feedback from our customers leads us to believe that the rig count and completions activity may be lower than the fourth quarter of last year." 
He added that international revenues were up by 10 per cent during 2019.
James West of Evercore ISI praised Halliburton for cutting costs. He said the company was "showing leadership by walking away from unprofitable or low-return work".
Anish Kapadia of AKap Energy, a London-based hydrocarbons consultancy, said Halliburton was "taking costs out more aggressively than the [Wall] Street forecast, which it expects to lead to strong Q4 operating margin improvement in the drilling and evaluation segments despite falling revenue".
The job losses will largely fall on Colorado, Wyoming, New Mexico and North Dakota.
Halliburton said it had "no detailed information available on cost-cutting plans".
A Halliburton fracking operation. Picture credit: Wikimedia 
Related