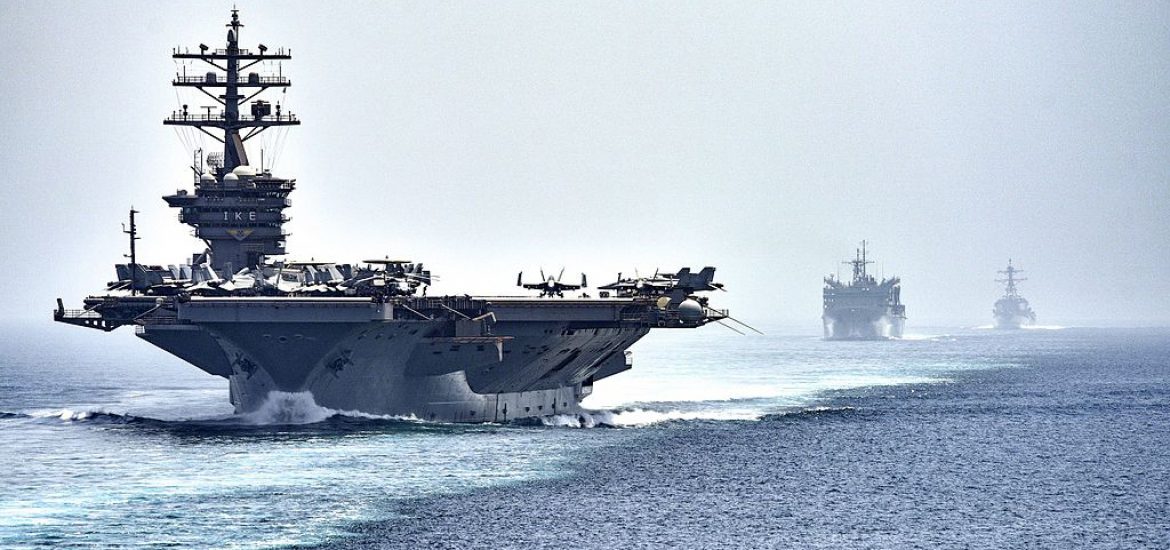 Iran has accused American and other "hardliners" of attempting to spark a war by staging an apparent attack in the Strait of Hormuz as US military reinforcements head for the region.
Iran's Foreign Minister Mohammad Javad Zarif has held talks with his Indian counterpart, Sushma Swaraj, and the European Union on ways to keep the 2015 nuclear deal alive.
Tensions in the Persian Gulf continue to rise as US military forces head to the region amid a series of attacks on oil infrastructure.
Two Saudi ships, another from Norway and one from the United Arab Emirates (UAE) were purportedly damaged at the weekend in what the Emirati authorities said was an act of sabotage near the major port of Fujairah.
The alleged attack happened 140km south of the Strait of Hormuz, where about one-third of all oil traded by sea passes through.
Zarif said he and Swaraj "talked about the policies that hardliners in the US administration as well as in the region are attempting to impose", he told Iranian state television.
"We raised concerns over the suspicious activities and sabotage that are happening in our region. We had formerly anticipated that they would carry out these sorts of activities to escalate tension."
Iran has reportedly told the European Union that it must export at least 1.5 million barrels per day (bpd) of oil, triple this month's expected levels under US sanctions, as a condition for abiding by the 2015 nuclear deal.
Zarif is negotiating with the EU on the issue.
The sanctions have already cut Iranian oil exports to 1 million bpd or less, from 2.8 million bpd at their peak last year. Exports could drop to as low as 500,000 bpd from May, an Iranian source told Reuters.
Iran has threatened to block the Strait of Hormuz if the US successfully stops all its oil and gas exports, while also hailing its own expertise in evading Washington's sanctions.
Iran's Supreme Leader Ayatollah Ali Khamenei said yesterday (Tuesday) there would be no war with the US despite mounting tensions. The religious chief reiterated that Iran would not negotiate with the US on a new nuclear deal.
"There won't be any war. The Iranian nation has chosen the path of resistance," Khamenei said. "Neither we nor them seek war. They know it will not be in their interest."
Khamenei set out last year a series of conditions for the European agreement signatories – the UK, Germany and France – if they wanted Tehran to stay in the deal.
Khamenei did not specify what level of oil sales would be required but sources this week said Iran's demand seemed to be up to 2 million bpd.
"Zarif said specifically that they want to sell 2 million barrels of oil, basically the level Iran was exporting before Trump withdrew from the deal [in May 2018]," said a European source from the New York meeting.
"But I don't think it is a serious demand. It isn't possible and the Iranians know it isn't possible."
More deployments in the Strait of Hormuz are coming. Picture credit: Wikimedia
Related