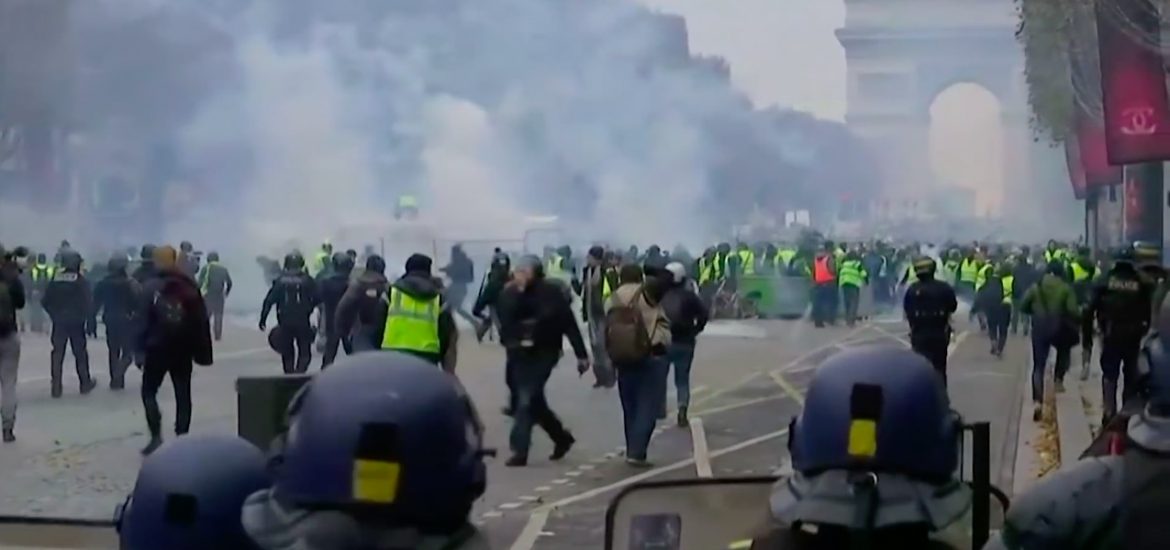 French President Emmanuel Macron's popularity has fallen to a new low, according to opinion polling, amid protests against a planned rise in fuel taxes.
He moved to ease concerns about the fuel tax by signalling he would introduce moves towards greener energy in a "fair, equitable and democratic" manner.
The lesson of how poorly ecological taxes can be received might be learned in other European capitals as EU member states try to address their 2020 renewable targets.
Diesel, which powers 62 per cent of French cars, has seen a price rise of nearly 24 per cent in the last 12 months, with a price per litre of around €1.48.
Pollster BVA said 26 per cent of French voters had a favourable view of the centrist president, marking a drop of three points from October. It puts Macron's approval ratings 19 months into his term below his predecessor François Hollande (48 per cent) and Nicolas Sarkozy (29 per cent) at the same stage.
The results were published during the "gilets jaunes" (yellow jackets) protests, named after the fluorescent vests worn carried in French cars.
The movement takes issue with a planned hike in tax on fuel announced by Macron for early 2019. The protests have involved around 280,000 people and resulted in at least 528 injuries, including one fatality.
Nearly 75 per cent of people could identify with the protesters, BVA said, but only 46 per cent of respondents approved of the methods.
On Saturday, the French police have used tear gas and water cannon against fuel tax protesters in Paris after clashes erupted on the Champs Élysées.
Thousands of protesters wearing the high-visibility jackets marched in Paris, singing La Marseillaise and building barricades amid tear gas.
Bruno Binelli, 66, a retired carpenter from Lyon, told the Observer: "He's suddenly concerned about ecology but it's a lie, it's a pretext to make us pay more tax. We no longer know what kind of car to buy, petrol, diesel, electric, who knows? I have a little diesel van and I don't have the money to buy a new one, especially as I'm about to retire. We have the feeling those from the countryside are forgotten."
Macron defiantly tweeted: "Shame on those who attacked [the police]. Shame on those who were violent against other citizens … No place for this violence in the republic."
They blocked road and Metro stations closed in one of the largest uprisings France has seen in years.
In defence of the fuel taxes, the president's office said: "We have received the message from the citizens. It invites us to go further.
"In order for the ecological transition, which is necessary, not to be socially unacceptable, it must be fair, equitable and democratic. We must, therefore, mobilise all those who will make it acceptable, so as not to leave anyone behind."
Saturday's protests in Paris. Picture credit: YouTube 
Related