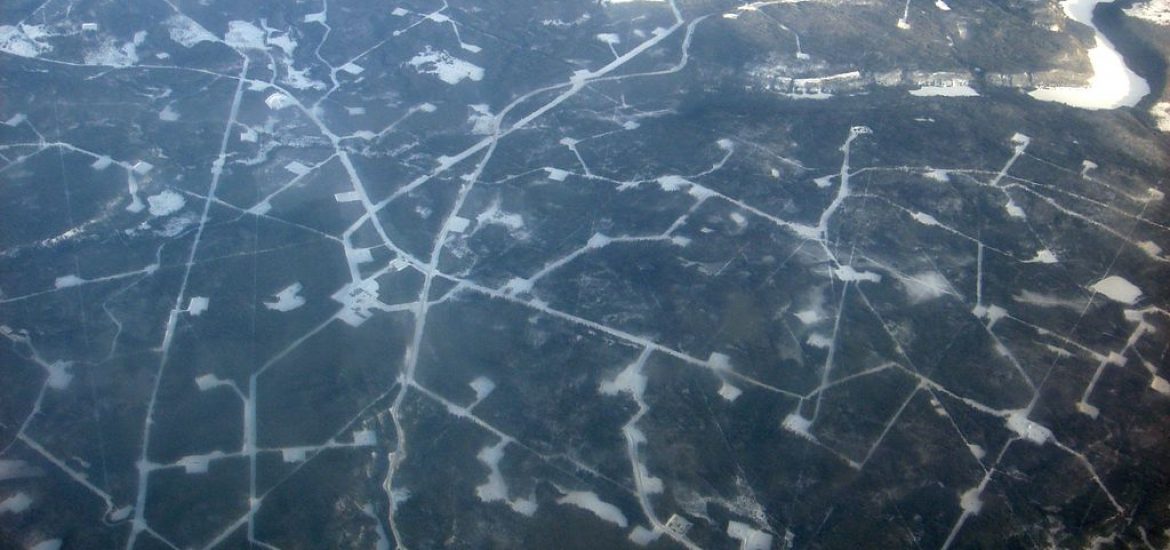 The price of oil fell below US$60 a barrel amid fears of global oversupply.
Brent crude, the benchmark, was trading 5 per cent lower at just over US$59 a barrel.
Prices have dropped by 30 per cent from a peak of US$86 a barrel at the start of October amid volatility not seen since late 2016. Brent crude is facing its biggest one-month decline since late 2014.
Pipeline constraints hamper the price of Canadian heavy crude. The Western Canadian Select (WCS) benchmark fell to a record low last week, down to US$11 per barrel, with pipeline demand far exceeding capacity, to the lowest point since the 2008 financial crisis. 
Canada has 10 per cent of the world's oil reserves but 95 per cent of it is heavy, unconventional oil in the Canadian Oil Sands (pictured) in the western province of Alberta. 
But the capacity of Canada's refineries is concentrated in the east, where oil is imported. 
Canada has so far failed to take advantage of its oil sands and it sends nearly all its oil production south to the US at a heavy discount. Due to infrastructural challenges, the loss to Canada's economy is estimated at around US$80 million per day.
The global fall in oil prices has hit share prices. 
On the stock exchange, shares in the two largest oil companies listed in London, BP and Shell, fell heavily, while it is good news for consumers as fuel costs fall.
Forecasters were until recently contemplating the prospect of US$100 per barrel for the first time since 2014.
Sanctions on Iran eased as the US granted waivers to the eight largest Iranian oil customers and production in the US, Russia and Saudi Arabia – the three largest producers – has increased. 
Opec, which supplies about a third of global crude, is considering cutting output to support prices at a meeting on December 6 but is under pressure from Donald Trump to keep them low.
Jason Gammel, an analyst at Jefferies, told the media: "I would expect that the oversupply lessens over the course of the coming weeks … Oversupplied commodity markets are very sensitive and it can be very difficult to find a floor. So long as you are in oversupply, there are more sellers than buyers and the variable cost of oil is very, very low and that's why these down corrections can significantly overshoot where we might have expected they would."
Alberta's tar sands. Picture credit: Wikimedia 
Related