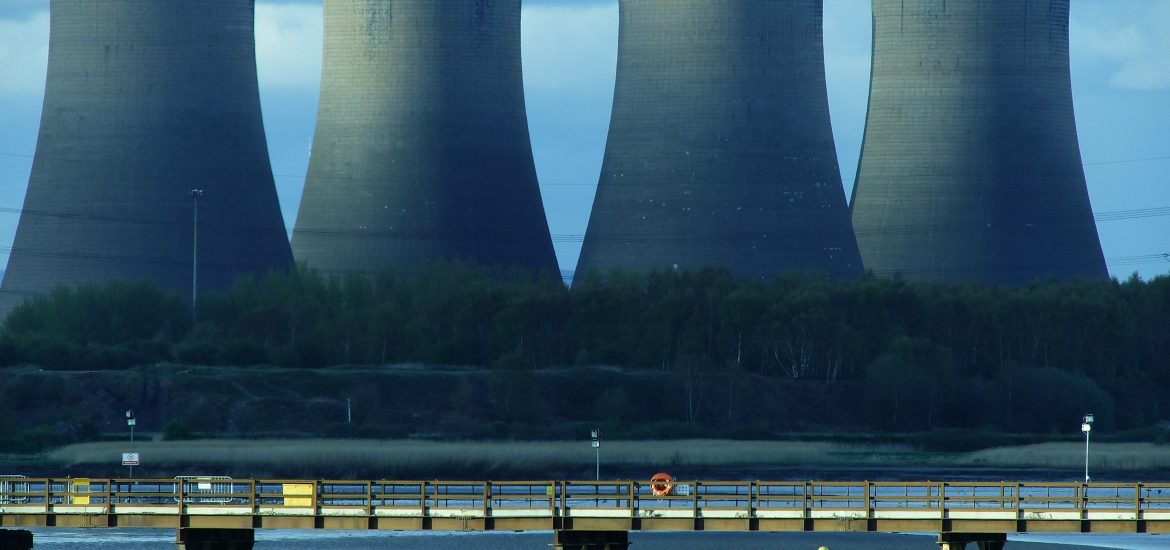 Nuclear power may be the world's most contentious energy source. Some believe it is the only answer to our climate dilemma because it can rapidly replace coal and natural gas in the power sector and decarbonize the global energy system. Others believe its costs are too high and its heyday has passed.
The new book by Joshua S. Goldstein and Staffan A. Qvist, A Bright Future: How Some Countries Have Solved Climate Change and the Rest Can Follow (New York: PublicAffairs, 2019) falls clearly in the first camp. It argues unequivocally that nuclear is the only source that can decarbonize the planet and replace the two primary polluters, coal and gas, in providing consistent, reliable power.
The book's cardinal strength is that it prescribes a concrete solution to climate change. And it does this through fast-paced and lively prose, relatable examples, helpful graphs and illustrations, and an ample dose of passion. A Bright Future is nothing less than a timely and much welcomed addition to the debate on our planet's future. Nuclear champions will find all they could hope for and more. For those wary of it or outright opposed, the book will prompt a rethink, especially in light of fourth-generation nuclear, which uses a closed fuel cycle and a liquid fuel rather than traditional fuel rods, making it safer and more efficient.
Why nuclear?
Simply put, the fight against climate change is not going well. Energy efficiency has caused energy use to drop by 12 percent since 2000. Renewables have grown thanks to low costs, breaking annual records every year for total electricity generated. Yet carbon emissions, after plateauing in 2014-16, rose by 1.6 percent in 2017 and by a further 2.7 percent in 2018, making last year our worst on record.
The 2016 Paris Agreement aims for emissions to peak by 2020 and then continue at current levels. A Bright Future, notes that this would still produce a 3-degree rise by 2100. Alternatively, if the world embraced nuclear, it could reduce emissions by 2-3 percent each year and reach the 2-degree threshold in 2070, and stay there (p. 15-6). As it seems that countries are a long way off from their Paris commitments, the case is more urgent.
Goldstein and Qvist acknowledge that renewables can play a strong part in decarbonizing the economy. But more research into battery technology is needed before they will be able to scale up more. For now, increases in solar and wind are merely meeting the rise in global power demand: they do not threaten coal and gas as base load power sources or oil as a transportation and chemicals fuel. It should come as no surprise that the fossil fuel industry tacitly supports renewables.
"It would be very irresponsible to depend, for humanity's future, on solutions that we hope will appear decades from now and that depend on technological breakthroughs that have not yet occurred" (p. 71).
Founding fears
One of the strongest ironies of climate change, then, is that "the very groups most actively opposing nuclear power are those most vocal about climate change" (p. 217) Germany turned to renewables through Energiewende to abandon nuclear. Fukushima further crystallized anti-nuclear sentiment.
A Bright Future cleanly debunks several myths relating to nuclear – reactors are unsafe, waste cannot be stored, and civilian programs proliferate into weapons. Illnesses and deaths from nuclear have objectively been limited, they note, while waste has rarely had created problems. Similarly, civilian nuclear programs are not at risk of being turned into weapons programs because of technological complexity, expense, and all the checks put in place by the International Atomic Energy Association and the Nuclear Nonproliferation Treaty. "The main reason more countries do not have nuclear weapons is that they have chosen not to" (p. 133).
I, for one, am skeptical about relying on the past as a predictor of future non-proliferation. As Henry Kissinger said, history can "illuminate the consequences of actions in comparable situations," but "each generation must discover for itself what situations are in fact comparable."
After all, India, Pakistan, and Israel all chose to develop nuclear weapons despite all these measures, as the authors acknowledge. If Iran or Saudi Arabia acquired weapons, it is easy to envision a new global scramble for them. Meanwhile, international cooperation is as imperiled today as in the 1930s, before the nuclear weapons era; Russia and the United States are rebuilding their stockpiles of tactical, low-yield nuclear weapons; and North Korea is reluctant to relinquish its weapons, fearful of what happened to Libya's Muammar Qaddafi.
Northern exceptionalism
To convince readers of nuclear's benefits, A Bright Future describes several countries that have had positive results by going nuclear. Sweden overhauled its power sector in the 1970s thanks to nuclear, reducing total emissions by 50 percent and per-capita emissions by 60 percent (p. 20). Today, Sweden has some of the lowest emissions in the world, the highest level of per-capita nuclear power, and a price on carbon. It topped the Forbes list of Best Countries for Doing Business in 2017 (p. 225).
France, Belgium, Switzerland, and Finland are other exemplars. After a similar push in the 1970s, France relies on nuclear for 72 percent of its power today. Last year, the Macron Administration pledged to close all second-generation nuclear plants by 2035, along with all coal plants by 2022. It aims to replace it with solar, wind, and third-generation nuclear. French company AREVA is leading the way in developing this technology (p. 159-60).
The authors also mention the Canadian province of Ontario. Having built 16 plants from 1976 to 1993, it upgraded them from 2003 to 2014. The result? Ontario burns no coal. Its emissions have fallen by 90 percent. Nuclear is now 60 percent of total power generation, with hydropower making up the difference (p. 207-8).
All of these countries and territories (with the notable exception of France) reside in northern, population-sparse countries. Watching what happens in Paris in the coming years will be a strong indicator of the future of nuclear.
What is our priority?
China, India, and Russia see the future for what it is today. We can either keep burning fossil fuels and feel good about renewables or try to aggressively replace fossil fuels with nuclear. All three countries are adding more nuclear to the mix, while Beijing and Moscow are leading the charge to export new technologies to other countries (p. 174-90).
The United States, meanwhile, remains averse to nuclear energy, even if its current carbon intensity far exceeds Sweden and France (p. 212). The Democratic Party's Green New Deal (GND) conspicuously fails to include nuclear, while California, long a leader in implementing forward-looking carbon-reduction policies, is abandoning nuclear (and hydropower) in its hopes to decarbonize its power sector by 2045. To compensate for this lack of governmental action, Bill Gates cofounded ten years ago Terrapower in a bid to develop fourth-generation plants. Finding the U.S. regulatory environment unfavorable, Terrapower is building its first reactor in China, the first in the world (p. 161-2).
The bottom line is that A Bright Future convinced me that next-generation nuclear plants must play an immediate role in decarbonizing our future. Similar to renewables' battery limitation, nuclear requires additional innovation and scale before it becomes a no-brainer. It is closer to that objective than energy storage technology. For this reason, I reckon that we should all give nuclear another look, given our perilous position today.
Related