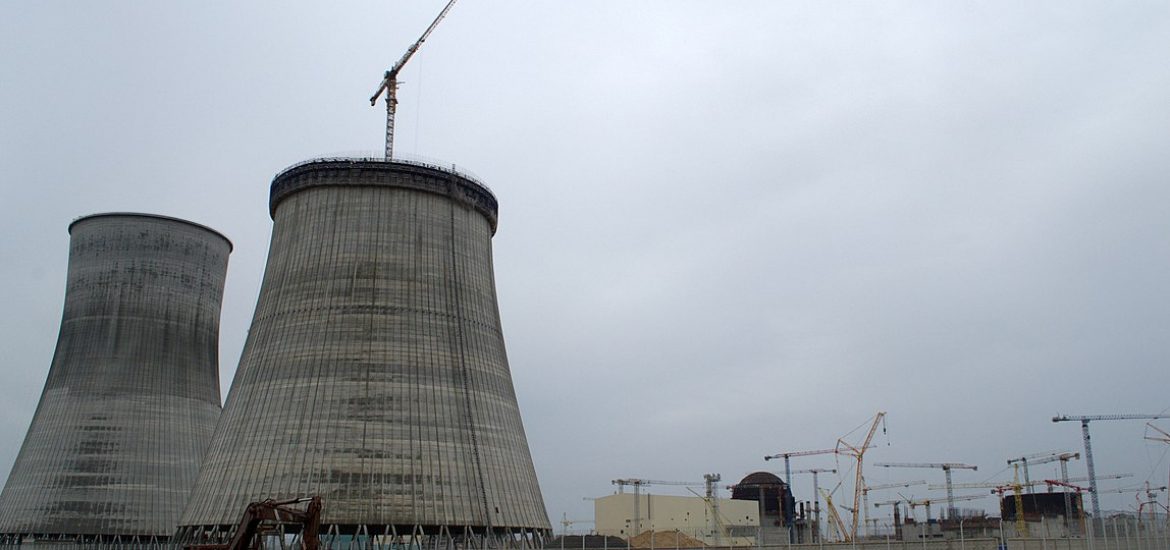 The three Baltic states say they will not import electricity from a controversial Belarusian nuclear power station just 12km from the Lithuanian border.
Estonia, Latvia and Lithuania have said they will sign a declaration of intent to oppose taking supplies from the Russian-built Astravets plant.
Ukraine is also doubtful about whether it will buy power from Astravets. 
"We are pleased to be moving closer to a common position," said Lithuanian Prime Minister Saulius Skvernelis. He said the European Commission would work to find "an appropriate mechanism controlling the origin of electricity entering our networks from third countries".
Belarus has said it is eyeing an opening date during 2020. 
Lithuania says the plant has not been exposed to a proper consultation. It says it breaches distance guidelines introduced after the Fukushima disaster 2011. It is now recommended that nuclear power plants should not be built within 100km from major conurbations. Astravets is about 50km east of the capital, Vilnius.
"Seeing the atmosphere and constructiveness as well as the European Commission's involvement, I believe we are going to have a really good compromise," said the Lithuanian energy minister, Zygimantas Vaičiūnas. 
Lithuania has been heavily critical of Astravets, which includes the construction of two reactors this year with a total capacity of 2,400 gigawatts. Two further reactors are planned for 2025.
Lithuanian security services have published a report that named Astrovets as a key threat to national security.
The government in Vilnius has accused Belarus of not complying with safety and environmental standards. The country has held emergency exercises to prepare for an accident and has stores of 4 million iodine pills ready for the public.
Astravets has passed the European Union's stress tests.
European and other international inspectors are due to visit the atomic site next month.
Estonia, Latvia and Lithuania are reportedly due to synchronise their power grid with the rest of Europe in the next five years. This involves withdrawing from the Soviet-era BRELL grid with Belarus and Russia.
Rosatom, Russia's state-run nuclear energy firm, is also partly financing the nuclear power station. The budget has been estimated at as high as US$22 billion.
Belarus has questioned the costs of the project. During recent bilateral energy talks with Russia in Sochi, the Belarusian delegation asked to postpone the start of payments and reduce the loan rate. 
Belarus' strongman president, Alexander Lukashenka, has said the power station is not being properly integrated into the economy. 
Astravets in 2016. Picture credit: Wikimedia 
Related