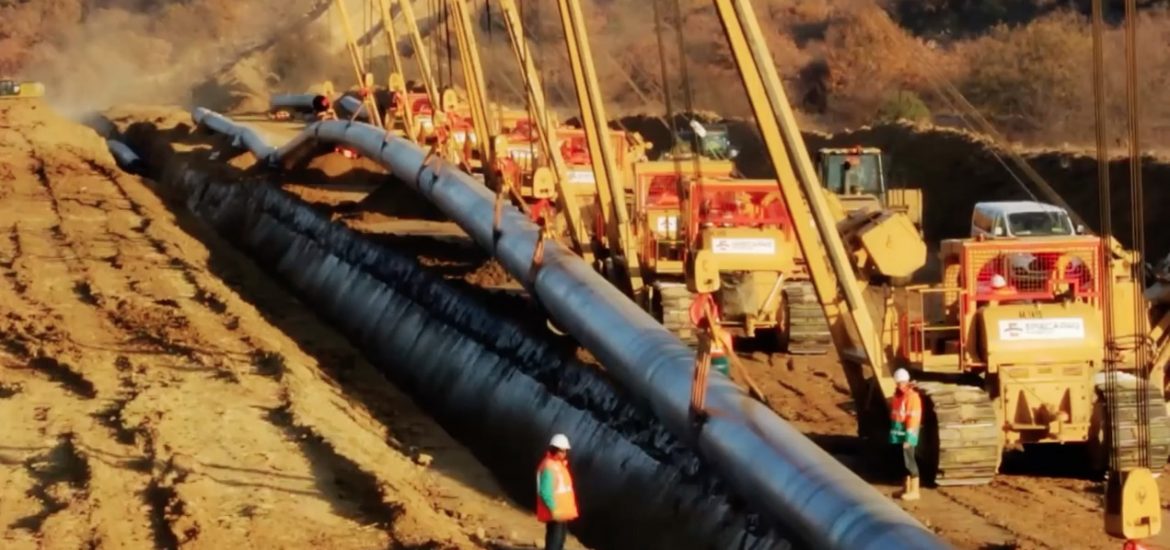 The Trans-Anatolian Natural Gas Pipeline (Tanap) is a vital for Turkey and Azerbaijan, according to Turkey's newly sworn-in president, Recep Tayyip Erdogan, during his visit to Baku yesterday (Tuesday). 
The natural gas pipeline, which began operating last month, runs between Turkey's borders with Georgia and Greece to supply Turkey and the Balkans. 
The 1,850km pipeline is the largest section of the 3,500km Southern Gas Corridor, which was opened in May in Baku.
Erdogan told a joint news conference with his counterpart Ilham Aliyev: "[Tanap] carries importance in that it is a strategic investment". He emphasised that bilateral relations were strengthened by the "one nation, two states" ties between the two ethnic Turkic states.
Erdogan's trip to Azerbaijan is his first state visit since Monday's inauguration to a second term, continuing the tradition of Turkey's leaders first visiting Azerbaijan and Turkish Cyprus after taking office. 
Cyprus
Later Erdogan told Turkish Cypriots he would never allow them to become victims of a diplomatic stalemate. 
In a joint press conference with Turkish Republic of Northern Cyprus (TRNC) President Mustafa Akinci, Erdogan said: "We will never allow the Turkish Cypriots to become minorities in a Greek-Cypriot state.
"Cyprus is our national cause. Our goal is to find a just and lasting solution on Cyprus," the tough-talking president added. 
Turkey has recently managed to block Greek-Cypriot attempts to drill for gas in the eastern Mediterranean, claiming sovereignty over maritime areas that contain gas. Erdogan made it clear that Ankara would not back down on the issue. 
He said instead that he aimed to double the TRNC's income per capita by turning the diplomatically isolated enclave into a regional tourist hub. 
Erdogan has acquired sweeping powers under a controversial new constitution that narrowly approached by the electorate in a divisive referendum in April 2017. 
The role of parliament has been reduced and the job of prime minister was dissolved, giving Erdogan dictatorial powers over almost all aspects of government policy. 
Akinci praised the TRNC's "sincere relations" with Turkey. It remains an international pariah, only recognised by its patrons in Ankara since it was established following Turkey's 1974 invasion of the north of the island. 
"The Turkish Republic of Northern Cyprus places great importance on its co-operation with Turkey. It is clear that Turkish Cypriots, unfairly isolated from the world, need Turkey's support for the development of our country in every area," the Turkish-Cypriot president said. 
He seemed to dismiss further peace talks with the Republic of Cyprus and underlined his determination to block further gas exploration. 
"From now on, the Turkish side of Cyprus will not be a part of an unending negotiation process." Akinci said: "As the Turkish Republic of Northern Cyprus, with Turkey's support, it is out of the question that we give up our rights in the eastern Mediterranean."
Akinci has said any profits from gas should be divided evenly between the two communities. 
Tanap aims to bring Azeri gas to the European market. Picture credit: YouTube 
Related