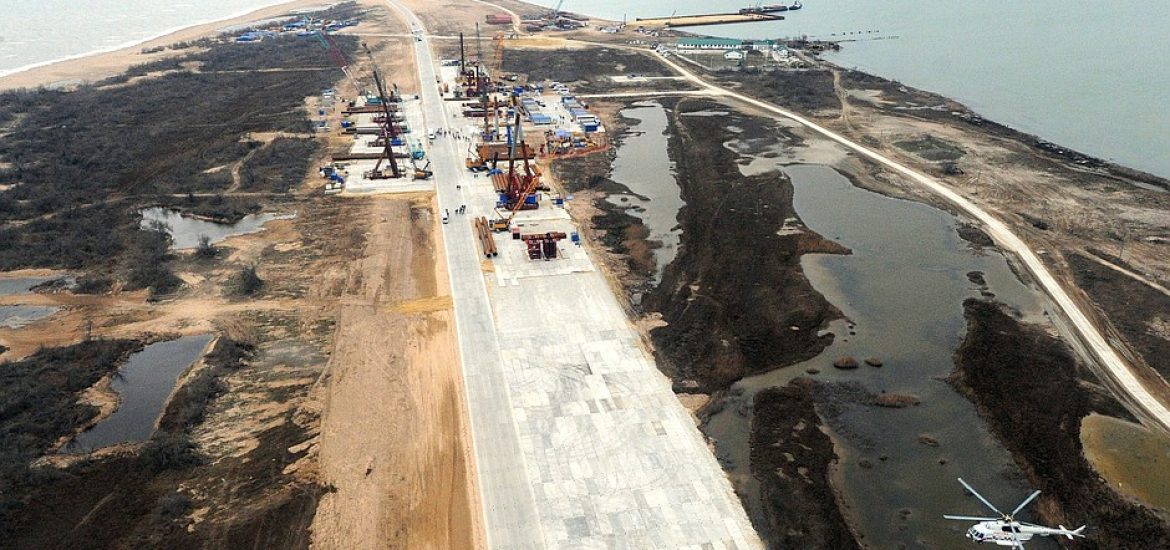 An Irish oil and gas exploration specialist has been in talks with Gazprom over the possibility of developing a refinery on the occupied Crimean peninsula, in possible contravention of international sanctions. 
David Horgan, an executive at Petrel Resources, held talks with Russian gas giant Gazprom about developing an energy project in Crimea, the Ukrainian territory seized by Russia in 2014.
Petrel Resources, an oil exploration firm active in Africa, Ireland and Iraq, is part of Irish entrepreneur John Teeling's 162 Group.
Horgan held talks with Gazprom in late April at the Yalta International Economic Forum about the possibility of developing a liquefied natural gas (LNG) plant on the peninsula or on the neighbouring Russian Black Sea coast. 
Horgan, who was appointed to run Petrel in 1997, said the possible project may not be subject to western sanctions as the site could be in the Kerch Strait, which separates Crimea from Russia, and technically in Russian territory.
The construction of a bridge (pictured) across the Kerch Strait into occupied Crimea was creating a number of serious threats to Ukraine, warned its security and defence council secretary, Oleksandr Turchynov.
"Thanks to the bridge, it is now possible to quickly deploy significant Russian ground forces to Crimea, which can launch offensive operations in the south of Ukraine," Turchynov was quoted saying by the Interfax-Ukraine news agency.  
But Horgan seemed unconcerned about Russia's influence. 
"We need the gas and 37 per cent of European gas is from Gazprom," Horgan was quoted saying by the Irish Times. 
He predicted that LNG would represent half the world's gas trade in three decades and Russia had "infinite gas" and could pipe from the Azov Sea to Kerch on the peninsula or to Russia. 
"Crimea is ideally suited to be an energy export hub, either in cooperation with Turkey or via LNG," the fossil-fuel boss said. "In the Irish Atlantic deep-water offshore, we work closely with our partner Woodside Energy, Australia's major LNG operator which plays a major role in the Japanese LNG market."
Gazprom was unavailable for comment. 
"We did look at it briefly 10 years ago when it was part of Ukraine, but the Ukrainians were so corrupt and there was so much mismanagement," Horgan told the paper. 
"They have infinite gas which they can pipe to Kerch or to Russia proper across the strait. You could flow the tankers through the Bosporus by international treaty and then you can serve the European market and you would be competing with Qatar and some other facilities in North Africa."
Kerch was named in September 2014 by Gazprom as a possible location for LNG processing construction at an event called "Integration of Crimea into infrastructure of Russia's oil product market".
Gazprom is not subject to sanctions over Crimea or the occupation of eastern Ukraine due to European reliance on its gas. Its Kremlin-allied chief executive Alexsei Miller was added to a US sanctions blacklist in April. 
EU firms and citizens are prohibited from buying Crimean companies or property or investing in the peninsula's energy and infrastructure. 
Under Ukrainian law, it is illegal to enter Crimea without Ukraine's permission, even though it no longer controls the peninsula. 
Horgan said he was unconcerned that he may now be unable to visit Ukraine for three years. 
"It's so obvious when you arrive there that Crimea has been totally neglected from the end of the Soviet Union," Horgan said. 
"They did nothing, and the only development is what Putin is doing now. From the point of view and wishes of the people living there, they are far better under Russia." 
The Kerch bridge is almost complete. Picture credit: Kremlin 
Related