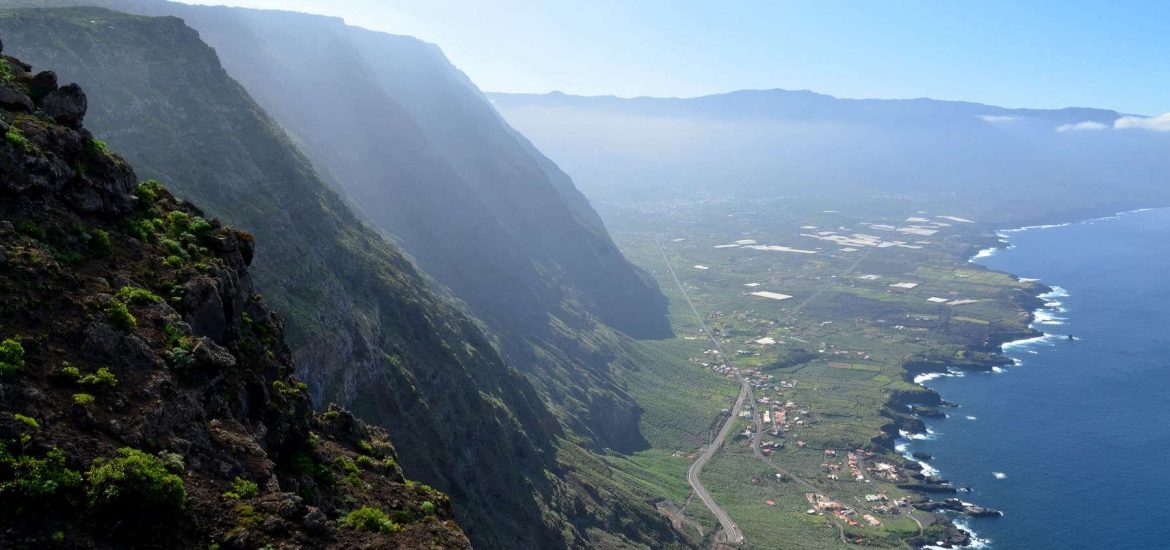 El Hierro (pictured) is one of the smallest islands in Spain's Canaries and the furthest from mainland Spain, covering just 268 square kilometres.
The remote island off the coast of Africa now has a combined hydro-wind power plant at Gorona del Viento that has turned El Hierro into a clean energy hotspot.
With five wind turbines, two reservoirs at different heights, four hydraulic turbines and one pumping station, the €82-million project aims to address power storage problems on the island.
"Part of the energy produced by the wind farm goes directly to the clients, and part to pumps that lift water from a lower deposit nearly at sea level to another one at an altitude of 700 metres," said manager Juan Pedro Sánchez. When there is no wind, electricity is generated from the water falling back down.
Last February the island managed to meet power demand with 100-per-cent renewable energy for 18 consecutive days.
El Hierro has a rocky interior, reaching 1,500 metres.
A volcanic crater was emptied and turned into the upper reservoir and the windy hills of Valverde, the island's capital, housed wind generators that can produce 11 megawatts (MW) for a population of almost 11,000 and peak-power demand of 7 MW.
Last year the plant provided 47 per cent of all electricity consumed on the island, 17 percentage points more than in 2015 with the rest coming from a diesel power station.
"With the last adjustments, we hope to produce in excess of 60 per cent in 2018 and keep going up," said Sánchez.
Designated as a Biosphere Reserve in 2000, and a pioneer of organic agriculture and sustainable fishing, El Hierro now wants to pioneer electric cars.
El Hierro was able to do without 6,070 tonnes of diesel or 40,000 barrels last year because of its renewable production. It has reportedly cut greenhouse-gas emissions by 40,000 tonnes since 2015.
The European commission, council and parliament are negotiating the so-called Winter Package of directives that will guide the energy transition from 2030 in order to meet the 2015 Paris climate targets.
Brussels has approved financing of a €1.7-million programme aimed at promoting renewable energy on the Canary Islands.
The Resor project is part of the Interreg Europe cooperative of far-flung European regions that are heavily dependent on foreign energy supplies.
Around 85 per cent of the funding for the project is due to come from European funds, within the Operational Programme of Structural Funds of the EU, and the remaining 15 per cent is due to come from the regions themselves.
Resor was created to boost renewable use, focusing on agriculture, livestock and fisheries, to help find innovative solutions that could reduce energy consumption, said the islands' Deputy Minister of Economy, Industry and Trade Gonzalo Piernavieja.
El Hierro. Picture credit: All Free Photos
Related