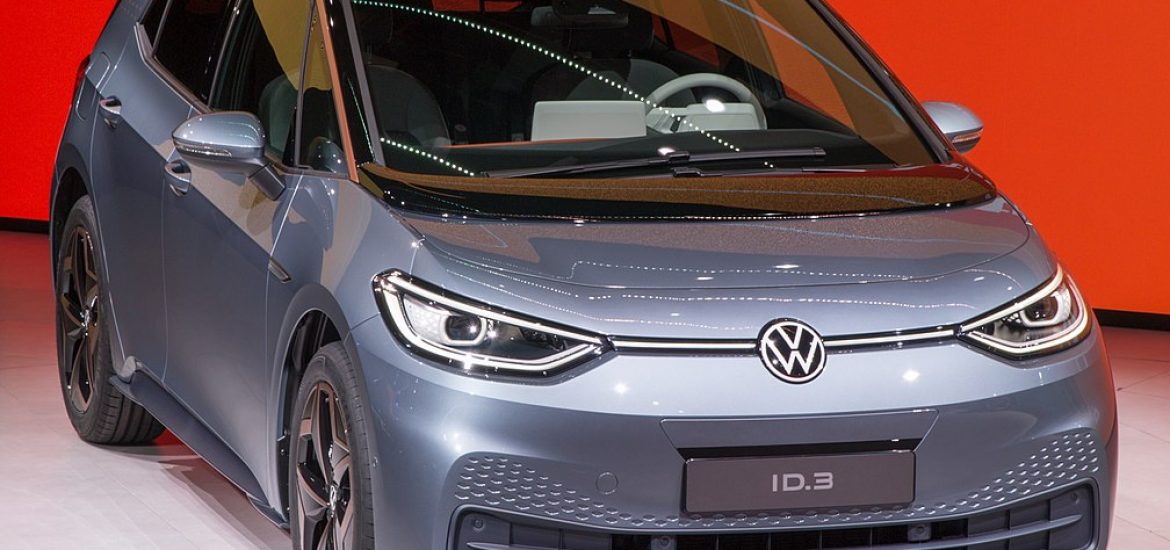 Germany's car industry is facing an export crisis as the 2015 Volkswagen dieselgate scandal weakens demand and the rise of East Asian and the US upstart Tesla lead the way with electric vehicles. 
"What is going on at the moment is brutal for us," said Peter Schwarzenbauer of BMW's board. "We have always faced headwinds but, in the past, there was also the possibility of compensating for them."
The car industry employs approximately 830,000 people across Germany. 
And now German auto giants are trying to catch up with electric vehicles. 
Frankfurt motor show in September saw Volkswagen unveil its first purpose-built electric car, the ID3 (pictured). Mercedes launched a streamlined, battery-powered version of its S-class.
Volkswagen has taken steps towards producing lithium-ion batteries in Germany with the launch of its development centre in Salzgitter.
Stefan Sommer of the VW Group board said the company was "moving forward with building up battery cell knowhow in Germany". 
VW also plans to start a battery recycling pilot next year and it said in June that it would invest €900 million into its joint venture with Swedish startup Northvolt to open a lithium-ion cell factory in Salzgitter by 2023.
But battery technology is still dominated by East Asian manufacturers. 
China's CATL, the world's biggest car batteries maker, is about to start building a €1.8-billion factory in Arnstadt in eastern Germany to supply BMW, Volvo and other European car makers. 
German economy minister Peter Altmaier and France's financial chief, Bruno Le Maire, are working to produce European batteries through an Airbus-style conglomerate.
The relative simplicity of electric motors means they need far fewer workers leaving question marks over the future of thousands of German specialists in internal combustion.
"We can't simply brush away the fact that we have many workers who are really worried about what is going to happen to them," said Peter Schwarzenbauer of the BMW board.
Despite a 0.3-per-cent rise in German industrial production in August, exports fell the same month by 1.8 per cent, on a seasonally adjusted basis.
September's gross domestic product figures will show whether Germany has formally entered recession for the first time in six years. 
German exporters will also struggle with this month's World Trade Organisation ruling allowing Washington to impose tariffs on EU agricultural and industrial exports of up to 25 per cent in retaliation for subsidies deemed illegal that were paid by EU member states to Airbus. 
Amid Brexit uncertainty, Germany's exports to the UK fell by €3.5 billion in the first half of 2019. The UK in 2016 was Germany's fifth-biggest trading partner and has now dropped to 13th, behind Poland, reported Holger Bingmann of Germany's BGA trade federation.
The Berlin government has also been called to invest more on infrastructure, including broadband cables and on roads and bridges, which are often in poor condition. 
The Volkswagen ID3. Picture credit: Wikimedia 
Related