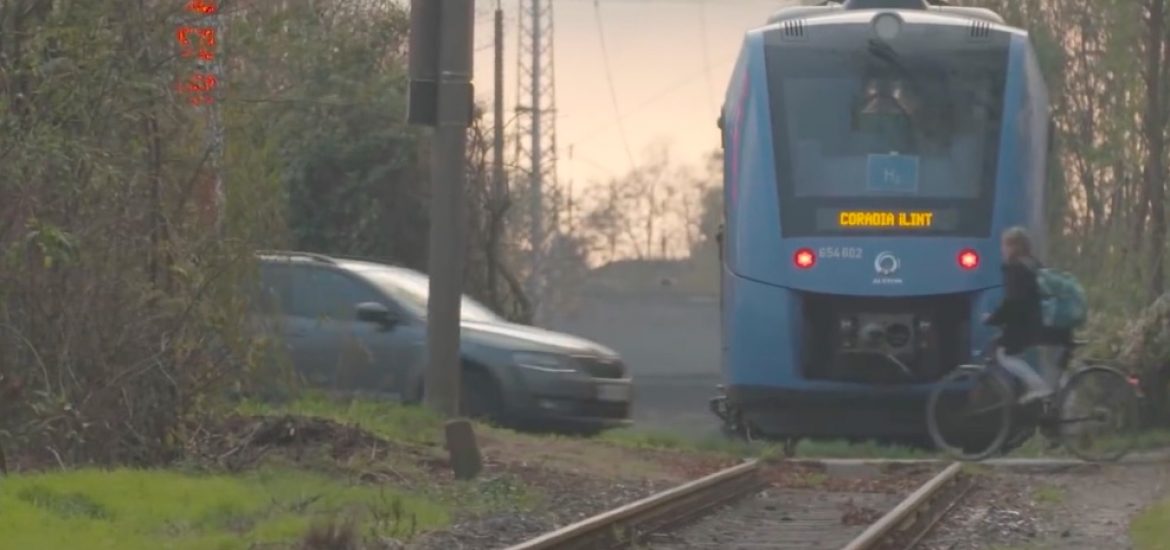 A pollution-free, hydrogen-powered train (pictured) has begun operation between Cuxhaven, Bremerhaven, Bremervoerde and Buxtehude in northern Germany.
The hydrogen trains are equipped with fuel cells that produce electricity through a combination of hydrogen and oxygen at speeds of 140kmh.
"The world's first hydrogen train is entering into commercial service and is ready for serial production," Henri Poupart-Lafarge, chief executive of French rail company Alstom, said during the unveiling ceremony at a refuelling station in the Lower Saxony town of Bremervörde.
Alstom signed a deal late last year to supply 14 fuel-cell trains and 30 years of maintenance and fuel.
The Coradia iLint trains can reportedly travel around 1,000km on a single tank of hydrogen, similar to the range of diesel trains.
It is has been hailed as a landmark in Germany's "energy transition" to cut pollution and boost the use of renewable energy, in line with commitments under the Paris climate agreement.
The Alstrom trains, which will replace diesels operating on the route, are more expensive but emit only steam and water. Surplus power is stored in an ion-lithium battery on each vehicle.
Most Germany engines currently run on polluting diesel.
Alstom says the technology is a greener, quieter alternative to diesel on non-electrified railway lines, offering an attractive prospect to many German cities as they look to cut air pollution.
"Sure, buying a hydrogen train is somewhat more expensive than a diesel train, but it is cheaper to run," said Stefan Schrank, the project manager at Alstom. The trains run about 100km between the towns of Cuxhaven and Buxtehude and are the first of 14 additional hydrogen-powered trains set to launch by 2021 in the state of Lower Saxony.
Bernd Althusmann, the state's transport minister, called it "pioneering", setting a precedent that "future rail transport can be operated largely climate-friendly and emission-free".
Other countries are also looking into hydrogen trains, Alstom said, including the Netherlands, Denmark, Norway, the UK, Italy and Canada.
The French government has already said it wants the first hydrogen train to be in operation by 2022.
Ever since the 2015 Volkswagen emissions scandal, increasing attention has been paid to the pollution caused by diesel.
Several German cities have since imposed bans on the use of diesel vehicles.
The European Commission took Germany and other European Union member states to court in May for exceeding pollution levels above the agreed threshold and failing to take effective action in time.
The Alstom trains in operation. Picture credit: YouTube
Related