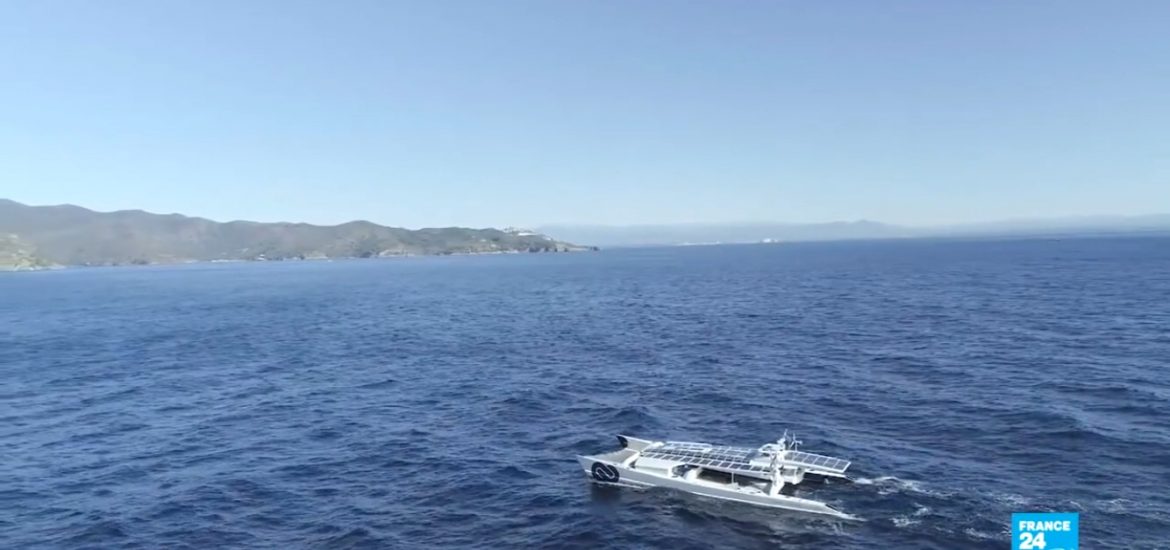 Hydrogen could harness the full potential of offshore wind in the North Sea, according to a study.
Hydrogen is the most abundant element in the universe, although on Earth it is usually found with oxygen in water and other compounds. Once separated it could be the ideal energy carrier as the chemical element with the highest energy density. It can be produced from water by electrolysis, using electricity.
Most hydrogen is currently produced from natural gas, but electrolysis using renewable power is a potential way to store energy from intermittent sources, such as wind and solar power.
Using hydrogen in this way could also provide an alternative to batteries as most electricity grids do not have the capacity to handle future demand. Hydrogen produced using renewable energy could be used in transport and heating, either blended with natural gas or pure.
Powered by solar and wind energy, a white catamaran is aiming to take six years to traverse the planet using hydrogen.
The ship, developed by Victorien Erussard and named the Energy Observer, works by eliminating the ions and salt from seawater and breaking them down into hydrogen and oxygen. This hydrogen is then stored until it is required as fuel.
There are wind turbines and solar panels to power the vessel, which plans to visit 50 countries.
The Energy Observer has already completed more than 7,000 nautical miles and is extremely light and noise-free, as opposed to MS Turanor PlanetSolar, which was the first boat ever to make a global voyage using renewable electricity.
The ship is currently navigating the planet without the use of fossil fuels. If this voyage is successful, it could answer a lot of questions and resolve a lot of environmental problems in the near future.
A World Energy Council (WEC) report said hydrogen "could be the key to unlocking the full potential of the North Sea offshore wind industry".
The report said: "Recently we have seen a great focus on offshore wind generation in the North Sea and capacity is rapidly increasing. However, various pathways to bring the power generated to the consumer efficiently are needed.
"This urgency is driven not only by the timelines set out by the Paris agreement but also by storage requirements and finding ways to enable the decarbonisation of industry and transport."
"Hydrogen from power to gas technology would be an important way to improvethe security of supply, while reducing carbon dioxide emissions in sectors which would otherwise be difficult to decarbonise," the report said. "If produced at a large enough scale, it could become an affordable alternative to fossil fuels."
The Energy Monitor. Picture credit: YouTube
Related