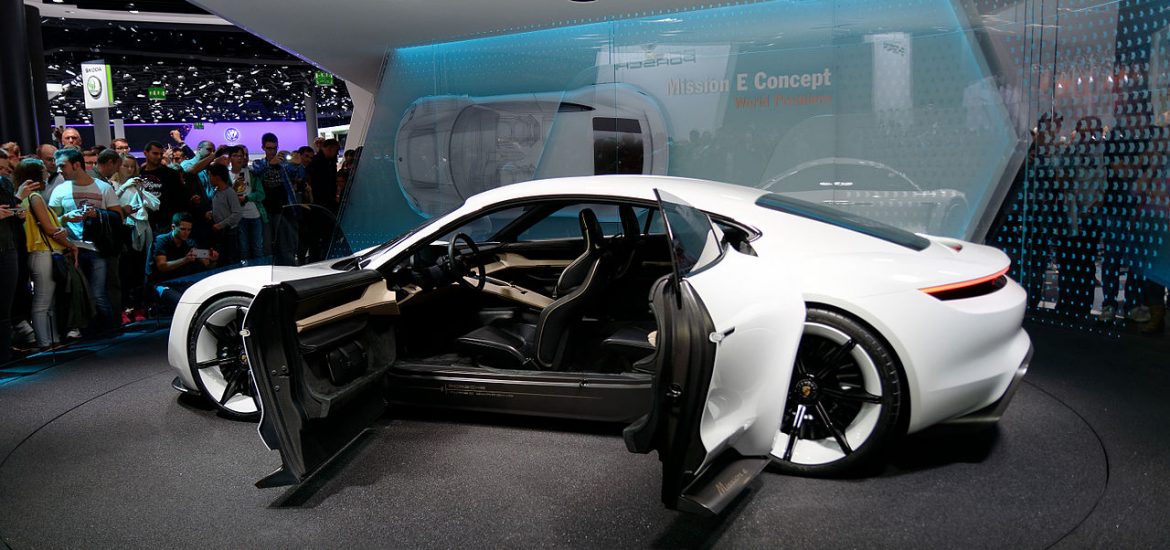 Volkswagen has secured €20 billion in battery supplies to underpin an ambitious push into the electric vehicle market, increasing pressure on Tesla as it struggles with production issues with its potentially mass-market Model 3.
The group's electric portfolio is currently eight electric cars and plug-in hybrids.
The world's largest car manufacturer would equip 16 factories to produce electric vehicles by the end of 2022, Volkswagen said. It currently has three sites. The German giant plans to manufacturer up to 3 million electric cars a year by 2025  in Europe and China with battery supplies from Samsung, LG Chem and Contemporary Amperex Technology.
New car models presented last week at the Geneva International Motor Show included the Audi e-tron, Porsche Mission E (pictured) and ID Vizzion.
Battery deliveries were secured for its two biggest markets and a deal for North America would follow shortly, the 12-brand Volkswagen group told its annual press conference in Berlin. The carmaker says it plans to buy about €50 billion worth of batteries as part of its electric-car push, which includes three new models this more and many more to come.
Tesla said it had US$17.5 billion worth of purchase obligations in 2017, including US$15.4 billion in deals until 2022, primarily related to buying lithium-ion batteries from Panasonic. Its Wolfsburg-based rival said its battery deal was one of the biggest purchasing initiatives in car-making history.
In 2019 the Volkswagen group would unveil a new battery-powered model "virtually every month", CEO Matthias Müller told the firm's annual press conference. "This is how we intend to offer the largest fleet of electric vehicles in the world.
"Over the last few months, we have pulled out all the stops to implement Roadmap E with the necessary speed and determination," Müller added.
Roadmap E was launched late last year, when Volkswagen announced plans to build up to 3 million electric vehicles annually by 2025 and market 80 new electric group models.
"We are making massive investments in the mobility of tomorrow but without neglecting current technologies and vehicles that will continue to play an important role for decades to come," said Müller. "We are putting almost €20 billion into our conventional vehicle and drive portfolio in 2018, with a total of more than €90 billion scheduled over the next five years."
In spite of the billions in cash outflows since the 2015 diesel emissions crisis, Volkswagen announced a net liquidity at the end of 2017 at a healthy €22.4 billion.
"2017 was an excellent year for the Volkswagen Group and its brands. We're back on the offensive – and we intend to remain there," the chief executive added.
Porsche Mission E. Picture credit: Wikimedia 
Related