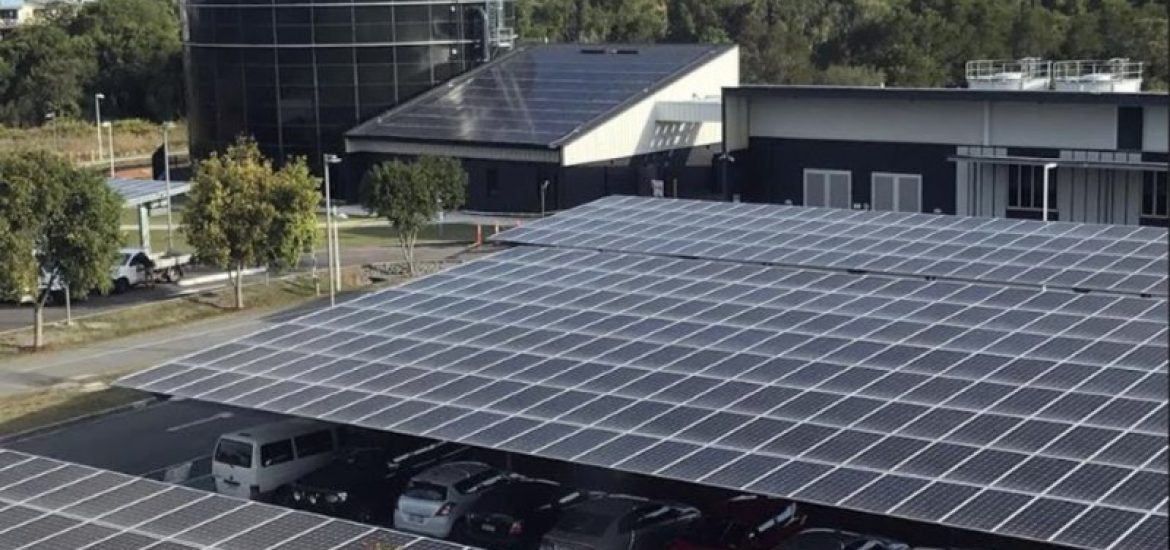 A chilled Australian "water battery" is using surplus solar power generated from 6,000 photovoltaic panels (pictured) at the University of the Sunshine Coast (USC) to save 40 per cent of air-conditioning costs.
The French project is expected to cut the air-conditioning costs of the university by US$69 million over the next 25 years and reduce emissions.
The system is expected to cut more than 92,000 tonnes of carbon dioxide emissions over 25 years, the equivalent output of 525 Australian homes, according to the USC.
Air conditioning accounts for 40 per cent of the university's overall energy use. 
The solar energy is used to cool 4.5 mega-litres of water inside a three-storey tank. The cooled water is then used for the campus' air-conditioning systems.
The university's operations chief Dr Scott Snyder said: "USC has a plan to be completely carbon-neutral by 2025, which is a challenge to any budget because it requires significant changes to the way energy is captured and consumed." 
The scheme was carried out by French firm Veolia, which specialises in water and energy management.
"The system was switched on in September and is now delivering 2.1 megawatts of power," Snyder said. 
The water battery won a Global District Energy Award for "Out of the Box" ideas.
The USC's energy manager, Dr Dennis Frost, said: "Universities have a very large energy footprint and we wanted to tackle that and reduce that expense. 
"I think it is exciting because we have the opportunity to teach the younger generation that the environmental challenges that are faced by the planet can be solved," he added. 
Veolia services manager Andrew Darr said the project involved nearly four years' work.
"The innovation displayed throughout this project is a testament to both organisations and could only be achieved through an open and collaborative partnership," Darr said.
Queensland Energy Minister Anthony Lynham last month said solar panels in Queensland produced twice as much energy as the state's largest power station.
Panels across the sun-kissed state, including from 30 solar farms operating in Queensland, produced 4 gigawatts of power, he said.
Queensland's biggest power station at Gladstone produces 1.6GW.
Elsewhere, the Barredo Colliery in Mieres, Spain, won the "emerging market" award for a project to use water in inactive coal mines to harness thermal energy. The network has a power capacity of 2.2 megawatts and is emissions-free.
Related