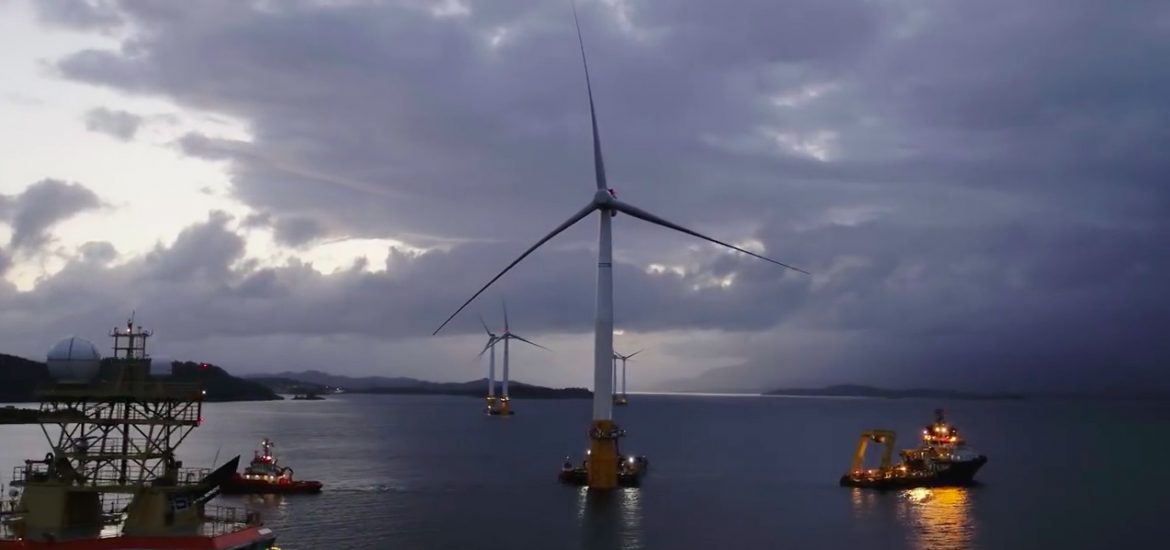 Norway's state-run Equinor and renewable firm Masdar from Abu Dhabi have attached the first battery to the floating Hywind wind farm in the North Sea off the Scottish coast. 
Hywind has already survived two winter storms and has exceeded projections for power generation. 
Designed and supplied by German-US battery manufacturer Younicos, the 1-megawatt system is set to balance power from the wind farm owned by Equinor and Masdar. The battery capacity was estimated to be the equivalent of more than 128.000 iPhones.
Younicos's parent company, Aggreko, provided power both during installation of the battery and to help install Hywind itself, which came into operation last year and is about 25km offshore. 
As part of the project, two Younicos Y Cubes modular battery containers have been positioned at Hywind's onshore substation in the coastal town of Peterhead, north of Aberdeen. 
"Our software tells the battery when to store electricity and for how long, and when and how much to inject back into the grid," the firm said. 
The Batwind battery focuses on how to increase the value of electricity produced and the way it can best be integrated into the grid.
As ever, the challenge is storage of renewable power when the wind, in Hywind's case, is not blowing. 
Sebastian Bringsvaerd, project manager for Hywind and Batwind told the media: "The variability of renewable energy can, to a certain extent, be managed by the grid. But to make renewable energy more competitive and integrate even more renewables to the grid, we will need to find new, smart solutions for energy storage to provide firm power. 
"How to do this in a smart and value-creating way is what we are aiming to learn from Batwind," he added. 
Hywind has been hailed as a great success. The project harnessed deep-sea oil expertise to construct the site, presenting an alternative area of employment as North Sea oil reserves deplete. 
Younicos boss Karim Wazni said: "We're very proud to partner with Equinor and provide our expertise from over 200MW of storage projects to this pioneering project.
"By adding energy storage capabilities to another world 'first', the world's first floating wind farm, we hope to demonstrate the essential role that storage plays as we continue pushing the frontier in producing sustainable energy.
"Specifically, we've equipped Batwind with our intelligent YQ software, which ensures that the battery 'learns' the optimal storage conditions. Our software tells the battery when to store electricity and for how long, and when and how much to inject back onto the grid."
Hywind will probably be copied elsewhere. Picture credit: YouTube
Related