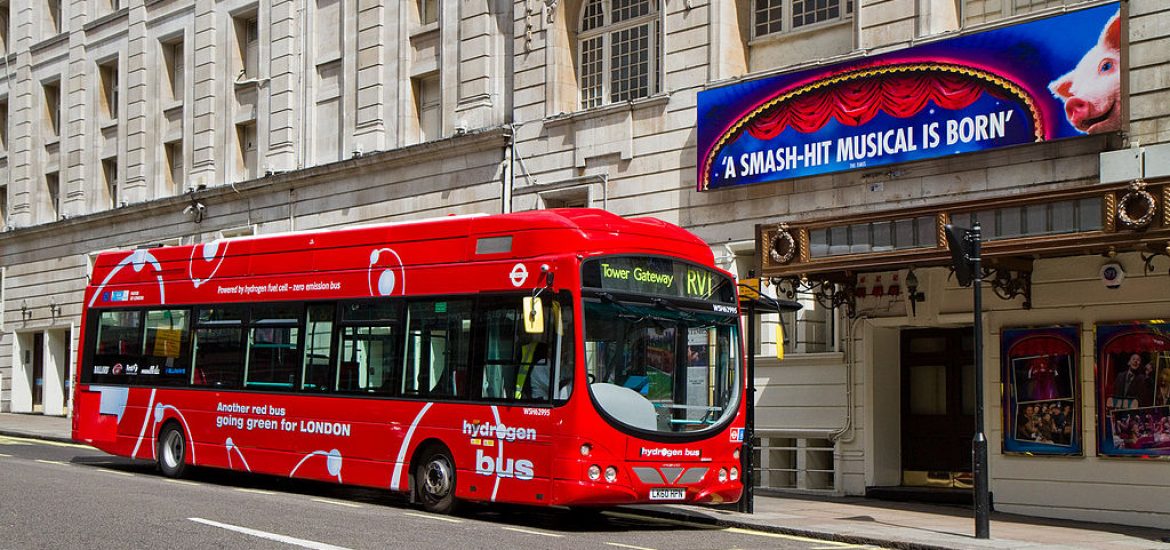 Cities are setting more ambitious targets for carbon neutrality and pollution which often exceed international goals. 
London is planning the world's first hydrogen fuel-cell double-decker buses. Single-deck buses are already in operation. 
The buses are electric but not battery-powered using lithium-ion batteries but instead have a chemical reaction "on board" to create the electricity to power the motor. 
The city government has provided £12 million of funding from Labour mayor Sadiq Khan. 
The buses will include USB charging points for phones.
The manufacturer Wrightbus of Northern Ireland went bust this year and has been rescued by Jo Bamford of the JCB dynasty. 
Lithium-ion batteries require precious cobalt and lithium and Chinese ownership controls many sources of supply. 
Chinese progress

 
Chinese truck manufacturer Beiqi Foton Motor says it will make 200,000 "new energy" commercial vehicles by 2025, including electric, hydrogen and hybrid gas-electric.
Chairman Zhang Xiyong said the project would at first be limited to commercial vehicles like delivery trucks, vans and buses with an investment of US$2.6 billion. 
Beiqi Foton, Toyota and Beijing Yihuatong Technology have announced a deal to develop a 100-kilowatt hydrogen fuel-cell engine to power heavy vehicles, including buses and trucks. 
Hydrogen fuel cells generate power by burning hydrogen in stacked fuel cells, with water as the only exhaust. 
Hydrogen fuel cell cars can be refuelled much more quickly than electric cars and travel further but filling stations are currently expensive, costing upwards of US$2 million. 
Hydrogen-fuelled vehicles can be filled up as quickly and conveniently as petrol tanks. In theory, hydrogen can be made at a filling station from renewable sources. 
One of the world's largest electrolysis hydrogen plants is in Japan. The Fukushima Hydrogen Energy Research Field will open in early 2020 with a 10-megawatt hydrogen plant using solar panels to make several hundred tonnes of hydrogen a year through electrolysis.
The French transport company Alstom announced this year a prototype for a train powered by fuel cells, capable of travelling 1,000km on a tank of hydrogen. 
Air quality would improve significantly with the advent of hydrogen-powered vehicles. 
King's College London and Imperial College London recently reported that poor air quality caused approximately 1,000 London hospital admissions for asthma and serious lung conditions per year. Research for London's mayor said, on average, four residents of the megacity were treated in hospital each day due to asthma caused by air pollution. 
Picture credit: Wikimedia 
Related