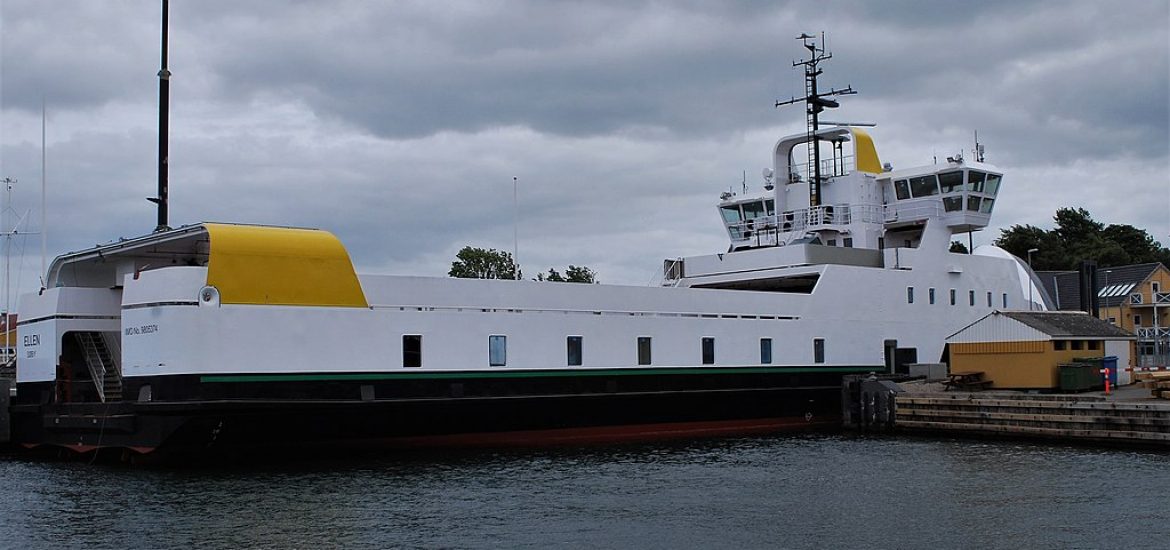 The Ellen E-ferry, the world's most powerful fully electric ferry, is due to start operations next month. 
Due to cover the 22-nautical-mile journey between the Danish islands of Ærø and Fynshav, the battery-powered ferry is due to sail seven times further than any other electric ferry. 
Danfoss Editron supplied the full-electric drivetrain powering the ferry for operator Ærø Kommune. The company's Editron system reportedly includes two 750-kilowatt propulsion motors and two 250 kW thruster motors, both of which run off synchronous reluctance assisted permanent magnet technology, controlled by DC/AC inverters.
The 60-metre-long, 13-metre-wide vessel is due to reach speeds of between 13-15.5 knots and carry 198 passengers in the summer but just 147 during the winter. The Ellen E-ferry can also carry 31 cars or five trucks on its open deck, powered by its 4.3 megawatt/hour battery pack, the largest currently installed for maritime use. It is also the first electric ferry to have no backup generator on board.
Kimmo Rauma, vice president of the manufacturer Danfoss Editron, said: "It is well known that the global marine industry is a major contributor of greenhouse-gas emissions. Maritime transport currently emits over 900 million tonnes of carbon dioxide annually and is responsible for about 2.5 per cent of global greenhouse-gas emissions. 
"We want to help change the world by easing pollution and we believe that industries such as the marine sector can lead the way. With a powerful Danfoss Editron system running it, the Ellen E-ferry will strengthen our already strong position as a world leader in the development and delivery of world-class electric ferries. It is anticipated that the ferry will save 2,000 tonnes of carbon dioxide every year once operational."
The project is being part-funded by the European Union, as Brussels pushes to meet its 2030 renewable energy commitments under the 2015 Paris climate agreement. 
"Ellen is an excellent example of the future for electric transport: cleaner, greener and more efficient," said Kim Fausing, chief executive of Danfoss. "It is a great project which demonstrates the potential for electric ferries to end users and the industry itself. It is an EU project and will be an exemplar for electric transport for many years to come. Electrification is key for Danfoss' success in the future. 
"We will electrify complex machinery, achieving not only reductions in carbon dioxide and other emissions but also improving the productivity and efficiency of such machines. Danfoss is already recognised as a technology leader and we are investing heavily in the business to ensure we stay in the forefront of electrification," Fausing added. 
The Ellen E-ferry. Picture credit: Wikimedia  
Related