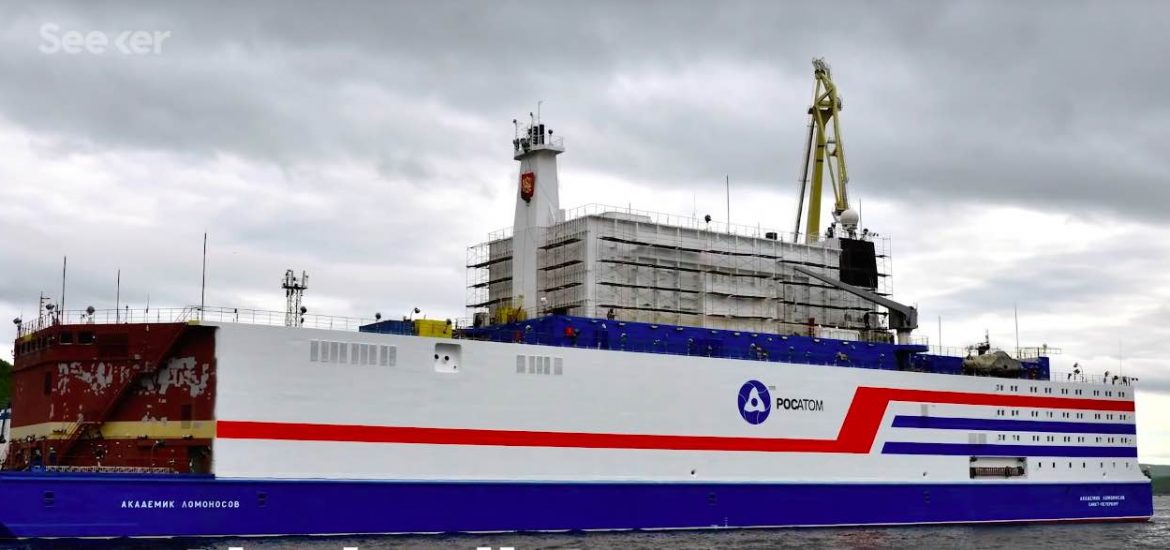 Russia's floating nuclear power plant has arrived at its destination in Pevek in Russia's far east after being pulled 4,700km from Murmansk. 
The experimental Akademik Lomonosov nuclear barge (pictured), which has a displacement of 21,000 tonnes, will now begin to supply power to Chukotka to replace the Bilibino nuclear plant, the world's only commercial power plant operating in a permafrost environment.
The 140-metre floating plant, dubbed a Chernobyl on ice or nuclear Titanic, is equipped with two KLT-40 reactors – similar to those used on icebreakers – that are due to generate a combined 70 megawatts of power and 50 Gcal/hour of heat energy. 
The lifecycle of the floating plant is 40 years with the possibility of being extended to up to 50 years. 
The ship, which was recently painted in the colours of the Russian flag, has a gym, swimming pool and bar for its 70 staff. 
Rosatom, Russia's state-run nuclear corporation, says the vessel can power a city with 100,000 residents. Pevek, across the Bering Strait from Alaska, has a population of 4,700 and the bulk of the Akademik Lomonosov's electricity will power mining and industrial operations and offshore oil rigs.
The region generates up to 20 per cent of Russian GDP as Siberian reserves diminish.
The Kremlin's mouthpiece Tass reported that the Russian delegation told the International Atomic Energy Agency (IAEA): "We would like to note our innovative work on creating the first floating nuclear power plant Akademik Lomonosov, which arrived yesterday [Monday] in the operating site in Pevek… Development of new energy technologies such as this provides us with new means of achieving sustainable development. 
"In this regard, we would like to stress the special role of nuclear energy in resolving climate issues. We welcome the International Conference on Climate Change and the Role of Nuclear Power, set to be held in October."
Rosatom says the Akademik Lomonosov is "virtually unsinkable" and could withstand collisions with icebergs and waves up to seven metres high.
After decommissioning, it is planned to tow the vessel to a special deconstruction and recycling site.
No spent nuclear fuel or radioactive waste will be left behind as it will be taken to the special storage sites, Rosatom claims. 
Since the project began in 2006, Russia has said floating nuclear power be used to supply the world's more remote locations.
Rosatom says it hopes to build other versions of the Akademik Lomonosov for international customers and talks have been held with Sudan.
The cost of the Akademik Lomonosov and the infrastructure needed to connect it to the Chukotka power network are estimated at about US$480 million. Rosatom has not commented on the costs. 
Akademik Lomonosov. Picture credit: YouTube 
Related